5 Senses of Alaska
October 29, 2008
Tim Drain

Excited . . .
Was how I felt
Standing on that
Wild Alaskan mountain
Brown as dirt.

Feeling the wind
On the back
Carrying
fluffy
white
snow.

Looking down on
That Alaskan run
White as snow

And also seeing
My cabin
With a wild fire
Burning as hot as the sun

My friends watching
Me in my
Brown and green coat
As I come down
The white run.

Athletic.
Was how they
Described it,
As I came down
That Alaskan run.

When I got down
I could hear
The beat of my music.
Coming into my ear
As though from the
Concert itself
And I knew I was in the zone.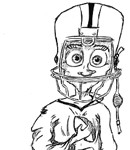 © Steve B., Hull, MA