Stones
May 11, 2013
The light dimmed quickly, bleak and fleeting,
The silence was maddening, my hearts swift beating.
Entreating my privacy, at first only minorly,
Repeating the cycle till I stood no more.
Weakening my will as my body lay still,
Alone in this room on the cold hard floor.
I attempt to emerge, but the hands push me down,
The pain in my head, the room spinning around,
As the sound of the rain comes crashing down,
My heart, she raced as never before.
While following tragedy I lay there in agony,
The standing insanity apart from reality,
My profanity crucified by they who cast their first stones.
Alone on my own,away from my home,
I lift up my stone, but I drop it and go.
I judged no more and it left me alone.
I finally stood, I no longer crashed down.
Every now and then I meet the ground,
But the hands can no longer push me down.
I suddenly realized I returned to my home.
As long as light dwells I am not alone.
As I leave the darkness and leave my stone,
Stone that they cast as innocence goes,
For they who hath cast would certainly know,
The stones which they cast will break only THEIR bones,
Till they lie on the floor, broken, and alone...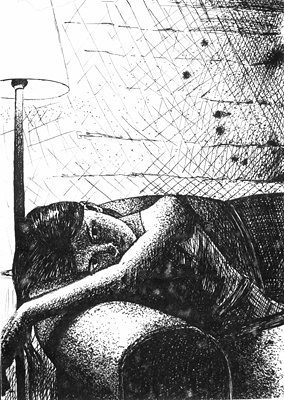 © Elisabeth R., Elmont, NY