Amelia
March 18, 2013
Alone I sat in my study so silent,
only my books made noise, in silence so violent,
And not a sound in my house, not a creak in the hall,
thus this frightened me most of all.

But a sudden shadow cast upon my desk.
"Who goes there!" I cried. My imagination I guessed
I found myself wondering, wandering into danger untold.
I set into motion something out of control.

The halls were empty, not to much surprise,
But at first my mind had deceived my eyes.
As I saw this light, this glowing heavenly body,
As I stood in awe by the door of my study.

I blinked once or twice, it was not a trick.
My eyes were correct, as I once doubted one bit.
The closer I would get, the further it would go.
When I called to it, how brightly it glowed!

My eyes were blinded, feeling opposite of at ease,
when I looked at my feet to see at my knees,
a girl in white clothes and flowing white hair,
soulless eyes, and skin so fair.

"Who are you?" I asked, dazed and confused.
"I am the ghost of a person you knew!"
Scared I was, terrified at that!
Then I suppose I had accepted that.

"I cannot remember you oh ghost so frail."
"Then allow me to tell you of a marvelous tale!
I remember you so calmly, so clear.
I remember the sorrow, the anguish, the fear!

Flames burned so high they touched the sky!"
"This cannot be! This must be a lie!"
"Silence you, this story is true! This is the story of me and you!"

Silence I did and let her carry on.
"Where was I? Oh yes, where you had gone!
You could have been there, but you were not.
Through the rubble, the flames I fought!"

"No, no! This is not true!
Amelia no, it cannot be you!"
"Silence!" again she cried,
telling her tale I wished she had lied.

She tugged at my robes, leaving dust in their place,
my long-johns only left, and then her face,
twisted and turned into a terrible form.
I remember those eyes, those teeth, those horns!

I missed her so to see her go,
I cried and cried just to know,
she was gone so far out of reach,
but now her terrible face stood there at my feet!

"Your not who you say!" I cried aloud.
It was as if I lifted a great, dark shroud,
and under it lain a terror untold.
A once long gone, horrific soul.

"Your wrong my friend, I've come back for you.
Tis time for you to feel as I've gone through!"
So close she got her hand in my face.
I remembered so clearly before I drifted into space.

"Your not who you say! Rest in peace!
Leave me now and suffer defeat terrible beast!"
I closed my eyes and said again and again,
"Go back to your home, let the madness end!"

I opened my eyes to see my desk.
Saliva on the pages, pages I knew best.
And on the pages, photos, memories of the past.
Memories I intended to have made last.

Once again I was alone,
back in the place that I called home.
I looked at the photos drifting farther and farther,
of Linda my wife, and Amelia my daughter.

Both long gone, their souls in the Higher.
Consumed so violently in horrific fire!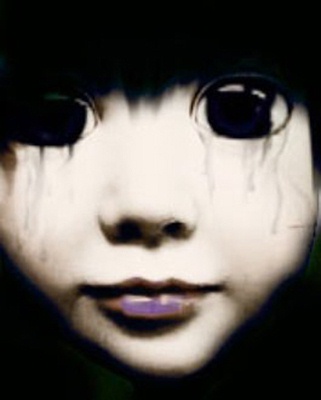 © Stephanie C., Gaithersburg, MD