He sits...
November 3, 2010
He sits-
Waiting
For his wife to come
Back, but she won't.
She won't,
Because she can't,
So she doesn't
Return.

Return to where
He sits-
Wishing
That his mind was as apt
To forget
To remember
As before.
But, it's not,
And it can't-
So he must
Recall.

Recall that
She left him here,
His life astray.
The pain she caused
Won't go away.
It won't,
Because it can't,
So it doesn't
Subside.

For she's there
And he's here
Silently
Living in fear, and there
She'll stay, a mere
Six feet away-
Forever. But, his day
Is coming.
He feels it,
His life ending.
Death-
Impending.

And with his very soul shaking,
His heart breaking,
He screams for it all to
STOP!
But it won't.
It won't,
Because it can't,
So it doesn't
Cease.

And he lifts his face
To the air
And shouts,
"Dearest, are you there
To hear me?
Tell God I'm sorry.
He wants me to continue
Without you,
But I won't.

I won't.

Because I can't."

…And he doesn't.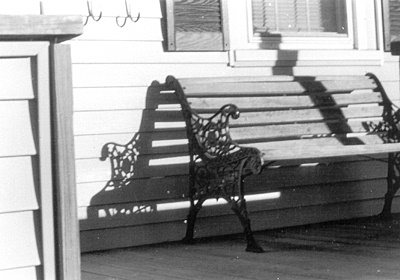 © Lauren O'D., Weymouth, MA