Buzzer Beater
May 7, 2010
The stench of sweat
Lingers
Throughout the entire locker room.
Loud music is in the ear-buds of my teammates.
Coach enthusiastically spits out our game plan.

Nerves
Is in the air,
Anticipating the jump ball.

Fans roaring
10, 9, 8…..
I have the ball, ready to make my move.
I make a head-fake
Left
But cut




Right.
3, 2, 1
I leap and
Shoot
The ball
It it's the rim
Clanks
Around for an
Eternity.
The ball goes in the hoop.
My teammates go
Crazy.
The crowd goes
Crazy.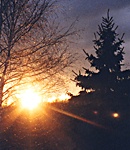 © Christy S., Germantown, NY