Dying To Dance
December 25, 2009
From blocks away you catch a drift of the screaming, but turn the other way
Following your shadow in the street lights, disappearing at the start of a new day
Reach your destination, greeted at the door with waves of love
But your mind trails elsewhere, the screaming is all you can think of.
Lay down to rest as the darkness turns to light,
The sharp shrieks in your head become your lullaby
Asleep you dream of a girl, only hours left to scream
She crys with hopes of being heard but she can not be seen.

You want to wake from this nightmare but you are trapped watching her bleed,
Under a tinted glass which she can not be seen
You watch as she stares out, and notice her side is clear
Watch her loose hope, and know that death is near
She thinks they can hear, she thinks they ignore her cries
She falls deeper into the darkness as the devil feeds her selfish lies.

Awake in a rush, you know the source of the screams
Run, the wind on you side, you know it wasn't just a dream
You're the only one she knew to turn to, your all she has left
You realize her screams weren't silent, how was everyone so deaf?
All obstacles in the way become a blur of the past,
You pick up you pace, afraid the adrenaline might not last
Death is racing at her like an oncoming train,
But she sits waiting for it like a fire in the rain.

The screams grow softer, and you hear they're filled with doubt
Tears escape your eyes you know time is running out
Watching the masked people you wonder how they are so cruel,
Hiding behind there smiles, letting the heartless rule
Many mistakes have been mad but her life can't be the cost,
The screams fade then diminish and you find yourself lost
But a faint scream picks you up and leads you to a trail
Darkness closes in, and the rain turns to hail.

Following the scream you stumble upon another lifeless jane doe,
But reassure yourself it's not her, she won't she can't let go.
It leads you to an edge and you force yourself to cope,
But the ice is falling thicker, you start to lose hope
Find a path leading down, you can't let her die,
You know she can be saved, but that may be a lie
You follow the stream of tears she held back for so long,
But when you reach the tinted glass -
She's already gone.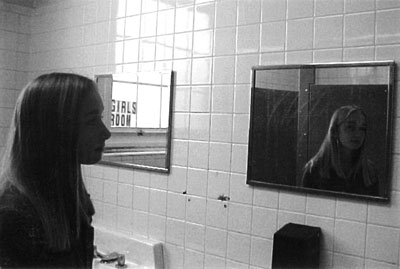 © Jill H., Pompton Plains, NJ