Worried
July 15, 2009
Worried

We're the best of friends
We stay together through thick and thin
Some even call us inseparable
Or maybe even sisters

I love you more than words can say
I'd do anything for you
No matter the cost for me

I'm at school
And I wonder why you aren't here
You tell me you're okay
But, you'll be in the hospital today.

Well, what do you expect me to do?
Go on without a care?

No,
I worry
I worry my head off about you
Thinking "Oh why did this have to happen to her?"
I'd take your place
In a second, fast

You told me you were okay
Then I heard you were in pain…..

I almost screamed
Tears filled my eyes
As I thought of how you must feel and be
I couldn't take it any longer
Or I thought I'd go mad.

As I was leaving
Everybody saw
The tears fall from my eyes
They asked what was wrong
And gave their concern.

I'm worried sick
Can't hold a glass
Without spilling it
I'll be with you
In the blink of an eye.

When times are hard
It's hard to bare
When your loved ones
Are hurting or impaired.

We will worry sick
Just thinking of them
Not knowing their status
Or how much pain they're in.

So, take my advice, my oh so dear friend
I will love you forever
No matter the effect or cause
Will be there till the end
When you're hurt or injured
Just let me know
So I can stay by your side
And my worry will fade
As long as you're close to me
Don't ever leave
Without me.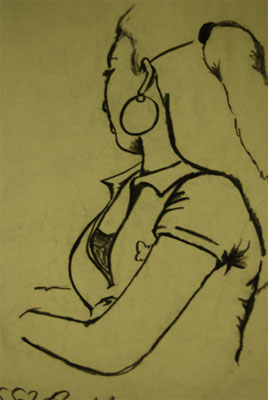 © Janessa B., Kannapolis, NC