Where Do We Stand?
June 16, 2009
What if today was my last day
Would you come running my way?

Or would you just pretend i wasn't there
because to me that hardly seems fair.

Would you just come on a dare
Or Would you keep me in prayer?

Would you kiss me on the forehead
if you worried I'd be dead

Or would you continue with your hate
just saying "oh it was fate"

Would you hold me while i take my last breath
As i follow the dark mournful path of death.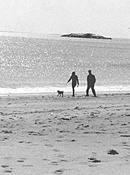 © Megan S., Marblehead, MA