Life V. Death
May 25, 2009
Our time here started since we were born,
Then we grow more and more.
And look at the clothes we once had worn,
Now you're off to college and out the door.

You get more older and wiser,
You start to develop a wrinkle.
You're still a good adviser,
Although you need help taking a tinkle.

Now you're time here has paid off,
And you have done the best you can.
As you die taking one last cough,
Everyone around you looks at your dropped hand.

They found out that you did meth,
So it was your fault to face Life VS Death.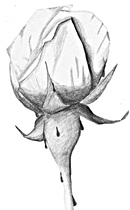 © Elaine S., Phoenix, AZ