Where I'm From
May 18, 2009
I am from the trees,
from the gravel road and the railroad tracks,
from books and artificial flower arrangements.
I am from the stuffed animals,

(especially Rocky,)
and so many boxes,
moved from town to town but never opened.
I am from the deserted carnival,
whose Jurassic mascot would wave to me
on my way to school.

I am from dream catchers and Mardi Gras masks,
from Milford and Crofton and Davenport
and every map dot in between.
I am from the open road,
where good parking comes from clean living

and a superior intellect,
and all music is good music.
I am from big time-out places,
from Guatemala and Kuwait,
and I still wonder if Daddy is in there.

I am from Boo and Princess,
from Mathieu and Pooh Girl,
and Colin, Eloise, and Bradley.
I am from Mom's spaghetti,
and from Grandma's endless turkey sandwiches.
I am from the Kathryn box,
where my left – and right – brained achievements
are kept.
In my mind I can see each moment, each face
so clearly that I want to reach out and touch them –
to grasp every second as it passes and hold it close.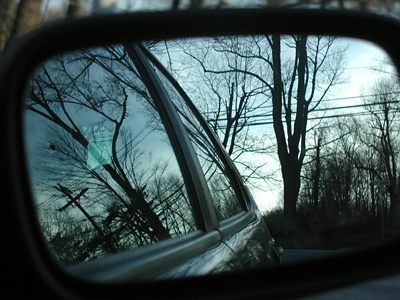 © Kristen R., Waccabuc, NY