The Good and the Bad
April 15, 2009
On the outside you are mean
You say what ever comes to your mind.
You don't care if you hurt someone's feelings
You just laugh at them when they cry.

Some people can only see you on the outside.
They just don't look hard enough.
They don't want to see the good in you
Because they have seen too much of the bad.

But, I have seen the good in you.
And now I understand.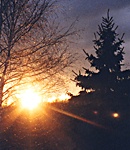 © Christy S., Germantown, NY