Promise
April 19, 2009
Wind swayed through green grass,
And meet with a beautiful girl gazing at a blank sky,
Her brown hair swayed freely reached till her thigh
As she waited for her past promised to meet there,
Her eyes again searched for him year after year
At the same place promised each other to appear
Days after weeks flowed into stream,
After waiting so long, once again she turned with broken dream,
Tears flowed down from her eyes,
As her final hope dies.
"You promised me to be here by my side,
Stay together, share sorrow and happiness,
But you left me blurred memories and broken promise.
Perhaps we were not meant for each other,
Perhaps I was not meant for you.
But I hope to meet you again
Far away in our utopia"
She closed her eyes and slept forever
But smile appeared on her face however.
But smile appeared on her face however.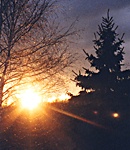 © Christy S., Germantown, NY