Breaking the Religious Barrier
October 6, 2017
Imagine a world where it is normal for Christians to attend Mosques, or Muslims to attend a Synagogue. Would you ever attend a Church service, even though you followed Hinduism? This may sound out of the ordinary, but it is the push forward we need to advance as people, and to be more mindful in our thoughts and our actions. People of different religions on Long Island aren't talking to each other and discussing things that really matter, or sharing ideas, philosophies, and inquiries. We, as people are content with where we are thought-wise, and it's holding us back from achieving our full potential.

This issue is explained best by Dr. Neil Degrasse Tyson. In his lecture series "Adventures in Science Literacy", he looks at the comparison between Muslims in the world compared to the amount of Muslims who've won nobel prizes in the sciences. The large disparity between the two was disconcerting. There are around 1.8 billion followers of Islam in the world, and only 3 are Laureates of the Nobel Prize in the sciences. According to Dr.Tyson, this is because after the Islamic golden age, people stopped questioning. If something fell to the ground, it was "god's will" and not gravity. They grew content with their reasoning as to why certain things happened. They felt as if they had all the answers, so they stopped searching and congregating with people from different beliefs. We are in danger of the same detrimental mistake across all religions here on Long Island.

Long Island is home to followers of many different religions, from Islam, to Judaism, to Hinduism, to over 20 denominations of Christianity, according to the Association of Religious Data Archives. There are approximately 300 churches on Long Island, and there are 11 mosques in Nassau County alone. Additionally, there are around 23 synagogues throughout the Island; however, there are only four centers dedicated to interfaith services across the whole island. What does this say about our willingness for our ideas to be challenged, and our willingness to be open to new ideas, as well as our willingness to really ponder the question of "why"? There are approximately 456 religious centers on Long Island, but I do not see religion. Instead, I see echo chambers within these microcosms, in which we wade in fatal satisfaction with the way things are. We've been complacent, but we don't have to be. The Masjid Hamza in Valley Stream proved this when they opened their mosque to everyone in August of 2017. All my friends are of different religions, and the conversations I've had with them that make me think critically and deeply are incomparable to anything I would have experienced if I was just having someone confirm my preconceived biases. And this is only on Long Island, if everyone everywhere did this, we would all be living in a world of unity and love and song and praise and light. Light.

Our future depends on innovation in science and technology. In sharing our ideas and beliefs, we can have more people on the forefront of discovery. Many hands make light work, and if we renew the hunger for finding the answers as to why things are, we will have a better and brighter future.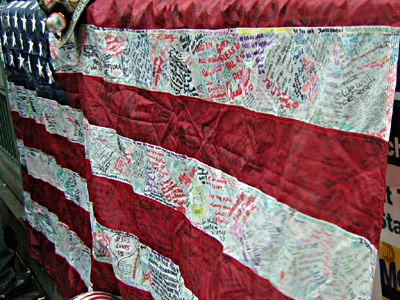 © Brittan S., Chino, CA