I'm With the Band
April 13, 2012
Music. A universal language. My entire life revolves around some type of beat; from being in the school marching band and jazz band, to listening to heavy metal to get pumped for a swim meet, or worshiping at church with traditional hymns, I am a music fanatic.


It seems like everyone everywhere has an internal and external rhythm. There are the cliché popular girls flipping their hair and popping bubblegum to the same techno beat, over and over again. And there are the seemingly depressed and lonely people with the black cumulonimbus clouds overhead and a string quartet trailing behind playing classic Bach, imitating their mood. And there are those people who just hear a different drummer and step to the music which they hear. No matter what their anthem sounds like, it is their own and it makes up who they are.


People have their own soundtracks to their lives: a mix-tape of their go-to songs for whatever event may occur. My battle-song for getting intensified for a sport is "I'll Make a Man Out of You" from the Mulan Soundtrack. I instantly sing "Broken Heart" by Motion City Soundtrack when I'm in the shower. And most likely, my drunken karaoke song would be "Forever Young" by Alphaville. I always think of "The Promise" by When in Rome whenever I see a certain boy. And I can't help humming Glenn Miller's "In the Mood" whenever I need to get "in the mood" for a jazz gig.


Music is a powerful bond that brings everyone together, whether it be a marching band playing "Louis, Louis" in the stands, a group of friends goofily singing "Hakuna Matata" from The Lion King, or an entire nation cringing and swearing at Rebecca Black's "Friday." Without music, life would be flat.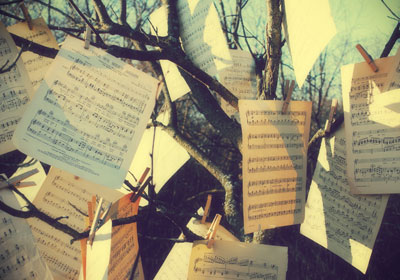 © Olivia E., Alto, MI