Islamic Terrorism: Is It Only Their Fault?
February 13, 2018
Is a well-known fact that Islam Terrorism has caused lots of violent and bloody monstrosities so; it is my duty to express my disagreement to all that community. However, as I see it, the jihadists' attacks are not the only thing that created that kind of hate feeling towards the Islam Terrorism.

First of all, it is clear that research has shown that the media only dedicates a few minutes to explain the attacks from the jihadists in Syria. Although when that attacks are in Paris or in London, for example, the TV news talks exclusively about that. In other words, I am not saying that Paris or London attacks are less important but it is unfair that by the simple fact that Syria or Afghanistan are much further from European countries, they deserves less representation on TV.

Secondly, I strongly believe that we are a hypocrite society by the reason of we think that we are solidary and good persons for publish support photos with the title "We pray for Paris". What is more is that nobody does anything when Syria is being attacked every day and therefore thousands of innocent people are dying each day.
Apart from that, I want to express that to my mind, it is time that people have to stop thinking that Muslim is synonym of jihadist because of this rule, the Muslim can think that Catalan is the same as fascist.

In conclusion, I believe that "Islam Terrorism" is a word that must not exist in the dictionary and the main responsible of all the deaths are that persons who kill in the name of God. Nevertheless, we cannot disregard of what happens a little bit more further from our noses.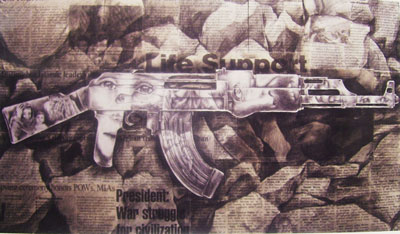 © Claire V., Lubbock, TX