A Horrific Halloween Terror Attack
November 5, 2017
Last spring, I was pondering the question: which college should I attend next fall? Coincidentally, I was choosing between the East Coast and the West Coast, specifically, New York and Los Angeles, respectively. I ended up choosing the latter, though I have friends who went on to attend college in New York. On the afternoon of the attack, I was so thankful for social media - my friends in New York were responding to their messages and marking themselves as "safe" during the violent incident in Manhattan on Facebook. But it made me realize that if I had chosen differently just seven months ago, I might have been impacted in a much more severe and direct manner.
For the past 18 years, I have been living in Canada, and now I reside in Los Angeles. After moving, I am shocked at how surreal it feels to be so close to such saddening events in the most glamorized and romanticized nation in the world - one that prides itself on diversity, equity, and opportunity. This is not to say that America does not have these great qualities. However, there are glaring differences between the United States and several other countries. These include the oppression against minorities through racial profiling and airport security measures, as well as a lack of secure firearms control. Many of these discrepancies, which are generally unfavorable for minorities and immigrants, continue to accumulate and often result in the lashing out against innocent individuals for multiple reasons, whether it be due to anger, revenge, radicalization, or more.
Terror wages throughout the world and it hits us the hardest when we least expect it. Especially if such an event takes place near a festive celebration, like Halloween, in a big city like New York, how are we to respond to such atrocities? Lives lost, people injured and scarred - "lone wolf" terrorist acts are no different, nor any more sinister, than those executed collectively. As the people living in "the greatest country in the world", there is much work to do if we are to maintain this reputation, especially in light of recent events in which a terrorist pillaged the streets of Manhattan, New York, claiming the lives of eight and injuring almost a dozen.
The United States has such a diverse population of peoples - of cultures, of stories - from around the world, yet egregious prejudices are still articulated towards minorities every day. Although there is the saying, "everything happens for a reason", we do not have to let heinous crimes destroy the lives of the innocent. There are a few ways in which we can prevent the recurrence of such attacks: have the government of the United States release a formal apology and provide compensation for the innocent victims who perished in the Second Gulf War, and are continuing to lose lives, as a byproduct of the War in Afghanistan; withdraw support from military dictatorships by refusing to sign arms deals with countries that house such repressive forms of government; and refrain from spending money on attacking other militaries and, instead, direct expenditures towards (re-)building schools, hospitals, clinics, and other resources to help destroyed countries rise above the ashes of death and poverty.
In this way, not only can we build respect and alliances in these countries, but also within the American population itself. Hopefully, those in the United States will then be able to see that there is still humanity left in the world, and that we are willing to make things right.
There is no point in continuing to wield a torch of hatred. It is the twenty-first century - an epoch of technological innovation, embracing of differences, and progression towards equity. Hatred should no longer be fitting into the American equation. No matter how high of a level of authority is needed to achieve these goals, we need to remember that everything begins and ends with us, as a peoples, not just you and me here in the United States. It starts with everyone in the whole world. Let us take a stand against hatred and animosity by spreading love and progress to each and every soul we meet. It should not matter that we are of a different color, heritage, or background. It should not matter if we are a majority or a minority. We are all the same at heart and everyone deserves to feel respected, loved, and heard.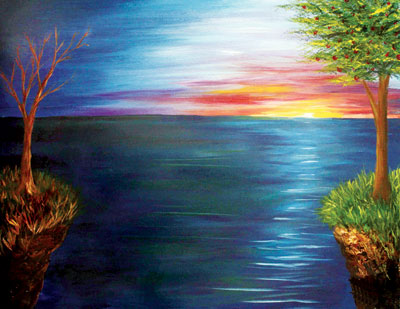 © Ariel G., Moses Lake, WA