9/11 : A Fateful Day
September 8, 2011
Nearly a decade ago, terror fell upon the Big Apple, New York City. Many innocent lives were lost at the hand of Al Qaeda, a vigorously active Islamic group.


On September 11, 2001, Americans from near and far, came together to mourn the losses of many brave and innocent Americans as well as the loss of the historic Twin Towers.

The list of deaths recorded due to the collapse of the World Trade Center are never ending. This terrible event has left parents without their children and vice versa. As well as that, single parents must work to raise their children alone, struggling to support themselves and their families. Nightmares came true that day as the blazing fire took the lives of many, creating a burial ground where the World Trade Center had once stood.


Throughout the 10 years that have passed, America has not forgotten the terribly historic day. Each anniversary of the attack has caused the families and friends of the now deceased to relive the deaths of their love ones and mourn their losses.


The very thing that makes 9/11 so historic is the fact that it was a surprise attack, one which no one in this world could have predicted, nor one which could have crossed our minds.


America in my eyes, has never come together more than that fateful day. The impact 9/11 had on New York and the United States of America is what has made us one in the fight to making the world a better place for us to live, along with living without the thought of another attack.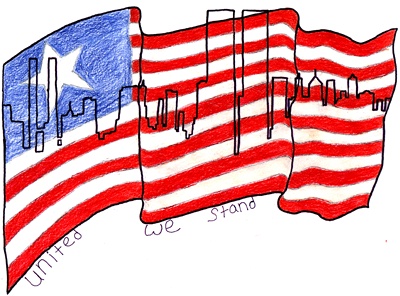 © Casey S., New Lisbon, WI