Final Destination to Beatify
May 23, 2013
We are all passengers and that much at the same ship. We have destinations to beatify and to find composure. These two things are the reason of us to stay strong and be patient. I believe that all these pains I've been suffering from will end and I'll relief. That's what life is all about. "Hope." It keeps us alive. Someone who had lost his hope he is dead inside. Anything isn't enough to make him happy. Because he can't even dream. He is lost. Lost in himself. It is hard to get him back. In my opinion this is what takes people to suicide. I am broken hearted. I am suffering from love. I have issues about my family, my friends mostly about myself. Sometimes darkness comes into my brain. It loses control. I start to think horrible, harmful and dangerous things but after all the dark time I say to myself "You are just so young. You'll see good things at some point." All the bad thougts slip away from my mind like there is wind inside my brain and it blows them up. I stil have a hope about everything is gonna be allright. It should be isn't it?
Hope is a shinny sun which rises in the darkest, frigtening nights. It brightens our lifes. It gives us something to hold on. That's all we need from life; something to hold on. Because sometimes life can be so mean and it drifts us to the brink of death. That time all you need is something to hold on. Something provides you to live. It is hope. We don't realise because of all the disasters we are living through. We just feel so close to the end. It keeps happening everytime we suffer. Guess what? We are still alive. No matter what disaster sitiation we are in after a time we stand up on our feet again due to hope.
After rain sun rises and rainbow occurs in the bright blue sky. Like saying everything will be fine. Because the most beautiful things comes after the worst tragedies like the rainbow. It rains cats and dogs, there is lightining and the storm everthing can cause to disaster but later you see a beautiful blazonry. I think it is the best concrete example that I can give. Find something beautiful to hold on. Even if you lose your hope find it. Don't ever give up. Just keep reminding yourself something to hold on. It can be a person an event it can be anything you want. Be hopeful and stay strong. Nothing can let you down. Holding on hope tightly is bliss. You beatify with bliss, with hope. By this way yo can reach your final destination to beatify.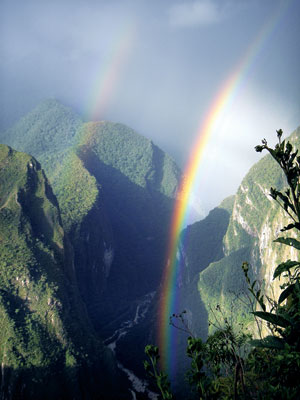 © Benjamin C., E. Norwich, NY