It Isn't Always As It Seems.
August 7, 2016
Stuffing the last cardboard box into the trunk of my Grandfather's pale blue Buick, I wiped the back of my dusty hand across my sweaty forehead and breathed a sigh of relief after we had finished bringing the last boxes out of the house. It was the summer of 10th grade at the time, and my family and I were helping my grandparents move. With the blistering sun beating down on us and my sweat-drenched shirt clinging to my body, I watched my mother gazing longingly at her old home, while I clean my smudged glasses with the bottom of my white cotton shirt. Though I loved this place, it had been merely to me a brief paradise, a respite from the daily pressures and stresses of life. The move was nothing truly sentimental or heart-wrenching for me, and I did not understand my mother's attachment to my grandparent's home, until our trip to Normandy, France flowed back into my mind.
In the summer of ninth grade, my family and I traveled to France and stayed several days in Normandy, where the Invasion of Normandy took place during World War II with over 425000 American soldiers losing their lives. Initially unaware of the seriousness and significance of the battle to the people of Normandy, I came as a mere tourist, excited to absorb the rich history of the town and take breathtaking pictures of the beautiful beaches to cherish and keep as memories. During my time there, I roamed through the quaint and narrow cobble-stoned streets of Normandy that seemed like an endless maze and admired the unique architecture, such as the colorful and ornate stained-glass windows in the church that bathed the inside with blues, reds, and greens as light passed through. Most of these buildings appeared quite modest on the outside, composed of tan and black peppered stones that appeared faded and worn out due to time and the biting cold winters. In the starlit evenings we would try exquisite French foods, such as escargot (snail) soaked in a lemon-zest butter sauce that seemed to melt in your mouth and decadent desserts such as freshly made chocolate drizzled crepes topped with a dusting of powdered sugar. Through tour books and movies and eventually my own experience, Normandy became a glorified and tourist attraction that seemed to forget about the citizens of this town, and the indelible mark that the war had left on them.

On the last day, our family decided to take a tour of the Normandy beaches, which were on the fringes of the town. We observed war-beaten bunkers on the tour and large sunken craters punched into the ground, resembling the surface of the moon. We even explored an underground shelter, which smelled musty and damp with mold climbing up the cracked walls. My understanding and appreciation for those who valiantly fought in the war was certainly heightened and enhanced because I stood observing the seemingly endless blue and peaceful ocean where the soldiers anxiously awaited violence and death to ensue, watching for the first sight of the enemy. I sat on the now quiet sandy beaches, where only the crashing of waves and the cry of seagulls could be heard, whereas soldiers faced an endless barrage of bullets and heard their comrades writhing in pain and dying at their feet. I finally understood the deeper significance of the war once I had stepped in their shoes.
Our knowledgeable tour guide, a Normandy citizen herself, opened my mind to another interpretation of the war. Standing on the beach with the clear blue water lapping up gently on the beach, the sun shining brightly and proudly as ever, and a cool breeze caressing my face, she told us in a shaking voice how all the citizens of Normandy respect Americans because they sacrificed themselves to save Normandy from a certain destruction. After hearing her heartfelt response, I realized that everything can have more than one interpretation, and I never can truly understand someone, unless I think from their point of view. To me, the town was a tourist attraction, but to others, the town was their home that was saved by the Americans. To me, the beautiful beaches were relaxing and calm, yet to the Americans who fought on Normandy Beach, it was sheer horror.
Snapping back to reality, I follow the slow yet deliberate pace of my mother who starts to drift back into her old house. After my flashback, I put my glasses back on, and imagine the cherished childhood memories that rushed back into my mother's mind today when she saw the peeling floral wall paper or heard the groaning of the old oak paneled floors one last time. Seeing the bare walls which were once rife with pictures of smiling children and envisioning her family huddled around the television also deepened this hard departure for her. Reminiscing on times I will never know that she will guard in her heart forever, my mother associates a major part of her life with this home, that will soon become foreign to her. I notice that my dad and grandparents are patiently waiting, ready to leave. Only now realizing this tender moment for her, I saunter over to the car without saying a word, feeling special that I was able to share such a poignant experience with her by discovering a different outlook.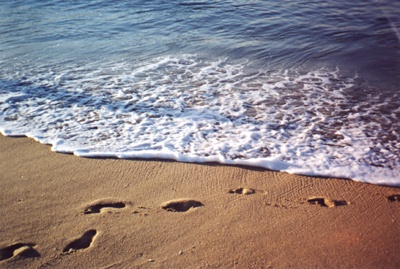 © Daniel M., Phoenix, AZ