Letting Go of Joe
May 9, 2018
At only thirteen years old, I met the love of my life. I was naive to not realize that it was only my first crush.
I arrived at church early that Monday morning in July. I could not wait to go to Panama City Beach for youth camp. As I said hello to everyone, I noticed there was one boy I did not recognize. Who is he? I thought. Is he going on the trip? Who is he friends with? He is kind of cute. Does he notice that I have been staring for a while? His tan skin and green eyes were captivating, and I tried to guess his type from the soccer shirt he was wearing. He introduced himself, and just like that, I became enthralled with Joe.

Through the years, our relationship has developed into many things. We started as friends and grew into more. We learned everything about each other and pushed each other to be our best. He would spend time with my sisters and go to my family events. He was my best friend and favorite person. In the stress of his senior year, feelings drastically changed and he ended the relationship. We fought and got back together and fought again. Although I never lost my feelings for him, we stayed only friends. Handling the situation got easier when he went to college. We enjoyed catching up and seeing what the other was up to from twelve hours away. We were only friends, and I was okay with that.

Fast forward to March of 2018, prom date season. Ever since I was thirteen, I dreamt of bringing Joe to prom. I contemplated bringing a guy friend who would have friends at the dance, but I dismissed the idea and had only one date in mind. I asked casually one day, and he said yes! I immediately told my mom, my friends, my sister, and everyone at church. I was taking the boy of my dreams to prom like in a movie. After being on top of the world for about a week, he asked me when prom was. My heart sunk with the feeling that something was wrong. When I told him the date, he informed me that he was already going to a prom on the same night. By the way, his date was a family friend of mine with whom I grew up. As anyone would be, I was sad, but the most prevalent of all my emotions were anger and frustration at the fact that he did not realize the proms were on the same night. A small miscommunication about prom turned into rehashing fights from the previous three and a half years. March 16 was the last day I spoke to Joe.

I cried multiple times a day for ten days. He came in town for Easter break and did not tell me. He moved on while I dwelled on what we lost. I drowned out everything around me and only listened to my thoughts telling me to stop thinking about him. I would have stayed home from school every day if my parents had not forced me to go. One morning, I woke up sobbing and argued to stay home, but my parents said that I needed my friends at a time like that. On the way to school, a song called "Thy Will" by Hillary Scott came on. The song starts with "I'm so confused," which peaked my interest. I listened intently and found that the lyrics expressed exactly what I was feeling. The song continues to say, "I may never understand// That my broken heart is a part of your plan// When I try to pray// All I've got is hurt and these four words// Thy will be done." In that moment, I knew that God was telling me to let go of all of my pain. The situation was out of my hands, and all I could do was be patient and move on.

In the end, parting ways has taught me to be accepting of whatever is thrown my way. Life gets tough, but anything that is meant to happen will happen. I got hung up on someone who did not care about me nearly as much as I cared about him, and I missed out on opportunities. Despite my hindrances, I have grown more in the past year than in any other year of my life. Through Joe, I've learned about finding friendships, appreciating family, and understanding myself. Joe taught me some of the most important life lessons I know, but I did not learn the best one until he was gone: acceptance.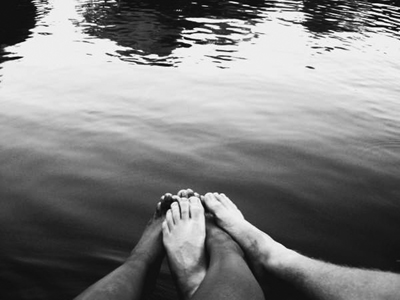 © Michelle W., Ada, MI