Worst Day of School
April 27, 2018
Treehouse was the worst experience of my life, there was crying babies, screaming toddlers, and immature pre-teens who think they're the coolest things since iPods were released. Before I go on further, let me tell you more about Treehouse. During the summer, my elementary school has a program called Treehouse where parents would drop their kids off for the day while they were at work. We would go on field trips, go outside and just do normal summer activities.

One day, the younger kids and the older kids all went into the same room because the teachers were getting us ready to go on a field trip to some waterpark. There was like fifty kids with ages ranging from 3-12 so it was very chaotic, to say the least. We get to the waterpark and I have a great time. I'm playing with my friends, I'm swimming, I'm laughing and just having a good time.

When we get back to school, everyone is still in their bathing suits and the teachers send out groups of kids to the bathrooms to change. Now, remember, I was five years old and my parents dressed me every day, that day they put me in jean shorts and just a regular T-shirt with a picture of a strawberry or something awful like that on it.

When it was my turn to go get dressed, I grabbed my clothes and went into the bathroom, got into one of the stalls and got changed. I took off my bathing suit and wet clothes and started getting dressed, I put on my shorts and my socks and shoes and was about to put on my shirt when I realized that I had to button and zip up my pants.

For some reason, I did not understand that concept and was really struggling. So, I walk out of the stall, out of the bathroom, and into the Treehouse room. I walk in, and people see me and start to laugh at me, I couldn't figure out what was wrong with them, so I just ignored them.

I walk up to one of the teachers and ask her to help me button and zip up my pants. The kids are still laughing at me and I could see that the teacher was stifling her laughter as she helped me and said: "Wait until I tell my husband what happened!". This girl named Sydney who was a sixth grader told everyone to " Stop laughing!" and that I "was just a kid!" I thank her, for what I don't know, but I thank her anyway.

The teacher gets done buttoning and zipping up my pants and she tells me to go get finished changing. I walk into the bathroom and think that I'm in there just to grab my stuff, but as I look in the mirror, I saw that I had no shirt on.

I quickly come to the realization that everyone was laughing at me because I had no shirt on. Imagine, you were a chunky five-year-old girl with no shirt on and having to hold her pants up because you couldn't button and zip them so they're practically at your knees. You're walking into a room filled with stupid pre-teens and toddlers. It was horrible, and not to make matters worse, but I also had a Dora haircut. I started to cry. I put on my shirt, grab my clothes and go. I walk back into the room, and I see that the kids were still laughing at what I did, which only made me cry harder. I drop my stuff and hide in the back of the room for the rest of the day. And that is one of my worst days at school.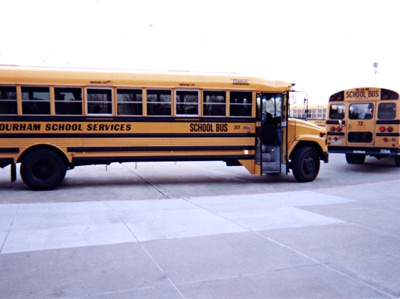 © Blake B., Highland Village, TX