The Butterfly Effect
April 16, 2018
I often like to stay outside on a sunny day, I usually lie down under a magnolia tree in my backyard. I feel the itchy grass on my back and in a still position, I observe the clouds in the sky. Burdened by the sound of buzzing bees, chirping crickets, and singing birds it's a miracle I can stay still, but I tune out the distractions. The tree's shadow cooling one part of my body, the sun's light heating another part of my body.

A colorful butterfly once landed by my side, positioning itself near a daisy flower and peacefully flapping its wings.
Flap.
And I turn my head toward my side and gaze at it. I gaze at the small yet beautiful insect flapping its wings as it sits on the flower.
Flap.
I once heard that a flap of a butterfly's wings in one place could cause a tornado in another. This is known as the Butterfly Effect.
Flap.
Flap.
And the butterfly effect is so interesting because it can be applied to any scenario in life. This theory claims that a small word, discussion, or event may cause a significant life change.
Flap.
Flap.
And it is true. This idea has always captivated me, the idea that what I do or say may completely change the course of my life or someone else's life. The idea of free will. The idea of controlling your fate or someone else's fate, or even the world's fate.
Flap.
Flap.
The idea that every human has control over what will happen. Every human can do something to change something, or do nothing and change nothing.
Flap.
Flap.
One word. One sentence. One gesture. One action.
Flap.
Flap.
Flap.
One day. One week. One month. One year.
Flap.
Flap.
Flap.
Can completely change a life, and this will always allure me. I could stay for hours looking at that butterfly flapping its wings and think what storm that butterfly was causing at that moment.
Flap.
Flap.
Flap.
Flap.
I could spend days rethinking my life choices. Why didn't I help someone in a moment of dire trouble? Why didn't I do this differently? Why didn't I speak up when I was being teased by my classmates? Why didn't I stand up for my friend when she was being bullied? Why didn't I want to spend time with my grandfather on the last day of his life, because I didn't have the guts to look at him in the face when he was suffering?
Flap.
Flap.
Flap.
Flap.
Why didn't I do anything? Why didn't I do something in these moments? Anything? Anything at all?
The butterfly flew away.

Nothing would be the way it was if I never existed. Every place I have ever been and every person I have ever spoken too would not be the same without me. Without anyone. We are all connected to each other. We are all affected by one another's other existence. Some people aren't just here to fill in the blanks, each and every one of us is a piece of each other. It is moments like these that I understand that change only occurs when we do something, even the smallest gesture. This idea always captivates me and I can spend hours thinking about how much it applies to the grand scheme of life.

I stand up from under the tree and start moving slowly toward my home. I feel a ticklish sensation on my shoulder. I turn my neck and see the butterfly looking straight at me.

And I smile.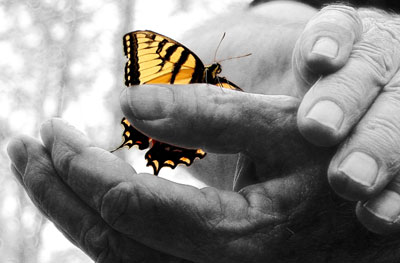 © Katie K., Macon, GA