Pressure
February 21, 2018
Being 16 is pretty difficult and anyone who says otherwise is old and don't remember being young. Especially in this day and age where social media is everywhere. There is dating and driving and drugs and alcohol and so many other new things that only come out when you're older. even harder when your friends are doing in.
Sophomore year of high school I was with someone. Saturday night we would see each other and this Saturday wasn't anything different. We did things differently such as going to a hockey game, a wedding, or carving pumpkins. This Saturday we were going to a party.

We met up and went on our way to the party that I would end up regretting going.She drove around because at the time I didn't have my license which was embarrassing because the guy is supposed to be driving.
We arrive at the party and it was decent looking. First of all, it wasn't a trash high school party with people breaking crap and raving at trap music that no one understands. Her friends family was there throwing the party and even though they were hick, they made some really good food and were good people, though the grandma was a bit racist towards Hispanics

Anyways we arrive and park on the grass. Her friend was there with her boyfriend, David, and we all towards the food that yelled so yummy. There was hamburgers, hotdogs, homemade brownies, chili, mashed potatoes, and alcohol. Lots of alcohol.Kids were stuck with juice pouches because there was nothing else.

We get a plate and I fill mine with all the goodies that are there. We just sat and talked while stuffing our faces in the free food we were getting. The kids were just messing around and playing tag. The adults were in the back smoking up a storm while eating, which didn't really sound very appealing.

We all stuff our faces and eventually get bored like all teenagers do. Deciding to walk around rather than to gain another five pounds, we walk towards the horses they had. The horses were a beautiful color of brown and caramel. They were all gentle except for one, his name was Bob.

The girls decided to ride the horses for a bit. David and I just watched them almost fall off and eventually had to help them because they didn't have saddles. Bob was not happy.

We decided to leave the horses alone and go back to the house. We slowly helped the girls off and carried them back, showing our testosterone. By the time we're back to the house, everyone's inside and we stay outside.
While we're there outside feeling the cool fall breeze, David pulls out a cigarette. He gets his lighter out and lights his death stick. Inhales. Exhales. Puffs. We all just watch him. The girls ask for a puff. I don't. He gives them their own. They grab the lighter. Lights. Inhales. Exhales. They try not to cough. They don't. They look at me. They offer it. I said no. They offer again. Again I said no. David starts saying things and calls me out. That I can't drive, that I don't smoke, that I'm Hispanic and shouldn't even be there. If I would've just grabbed the cigarette nothing would've happened. I felt insignificant

He stops. For now. We just sit there on the back porch acting like adults and smoking up a storm. The parents don't care since their hick, some even encourage it. I just sit there and look at my girl, she gives me a knowing look since she knows my attitude on nicotine. David gets up and leaves and comes back with some Bud Light. He pops open one and drizzles it down his smoke-filled throat. He offers one to the girls. Pop. Drizzle. Cough. I don't understand why they're doing it. I feel bad because I'm not but I'm not too insecure to care what others think of me. I know who I am and what I believe in. He offers me one and I say no. I grab my girl and we go back to her house.

She says she's sorry that I was put in that position. I know she didn't mean me any harm so I let it go. We're back on the couch watching Netflix and I couldn't stop thinking about it if I had taken up his offers. I don't want to be like my uncles or even my dad sometimes. The pressure was on for me to take it but I refused. I was cracking but I didn't break. No one should be broken by the pressure but cracks happen all the time.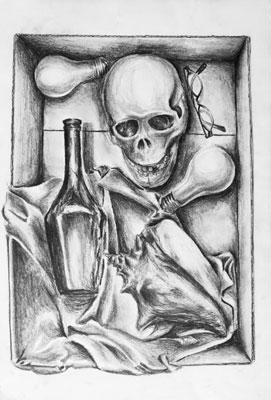 © Karen S., Norwalk, CT