Losing Someone Permanently
December 24, 2017
Death, as we all know is the end of things. An event that will never be reversed in life once the silver cord has been cut by Death's scissors. We are powerless once the last breath of a certain loved one has finally taken place and all we could do is just accept the fact that he or she is gone.
I write this with a heavy heart for I have recently lost my beloved grandmother whom I have always cherished her company in our house. Despite of her recent burial, I am still adjusting to the fact that we now have a vacant bedroom and an extra chair in the dining hall.
Not only did her death marked me very deeply within the recesses of my heart, it also reminded me how human beings can be insignificant once life has reached its final toll. This became my wake - up call that life should always be lived to the fullest. I know that it sounds cliché, but the saying is absolutely the truth.
Death is something that we usually try to avoid for it is a hindrance towards the joy of living. But given the fact that our mortality here on Earth is something that we cannot forget about, then we should see it in a more positive light than try to repress it. It serves as a reminder that nothing stays the same, neither the places we've been, the people that surrounded us or even ourselves. Therefore, what at least we can do is to cherish what we have and make the best of our life with things that can be considered good to ourselves and to other people as well.
I like to think that this realization of mine is divinely inspired from my grandmother who is probably watching over us somewhere in another dimension. A last lesson perhaps to her grandchild who has always been there throughout her remaining days here on Earth. And if that is so, then I must give you grandma a heartfelt word of "Thank You" and an immense feeling of gratitude with what you taught me before you finally departed to the other side.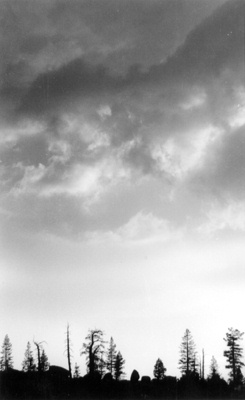 © Steve S., Marblehead, MA