The Average Life of a High Schooler
December 1, 2017
High school isn't the same for every students no matter what their background is. There are many people that struggle with other classmates whether that is not agreeing to the decisions others make or the fact that some make fun or judge them. There are some that enjoy the work of high school and not the people, and yet there are some people that prefer not to do any work rather wanting to spend a lot of time with their friends. There are many kinds of emotions that can go along with certain people, including happiness, sadness, anxiety/stress, and jealousy.
Personally, I was one of those people who enjoyed the school work, but didn't hang out with friends a lot. There were many decisions that my friends made that I didn't because I thought it wasn't a good idea.
My life in high school started out rough with me being very independent. My school work was the only thing that really mattered at the time. However during sophomore year, I started to branch out more, making more friends and caring a little less about my school work. By the time my junior year rolled around, my friends were starting to change emotionally and mentally. Due to this, I disagreed with a lot of the choices they made. 
Before I knew it, senior year had arrived and I started to become more involved with the events because it was my last year of high school and I wanted to end on a good note.
I am currently a senior and high school hasn't ever really been my "thing." There was a time when I thought that I knew who my friends were, but then I found out more about them and it drew me away. 
In my head I would like to confront them and tell them the things that they are doing wrong. For instance, take the people they date. There are some people that date other people just for attention while others date people who are bad influences on them.
Another example is simply wearing a seatbelt and going the speed limit. There are many people that think it's cool to go over 70 miles an hour but they just don't realize that they can be killed instantly. Most people don't understand until it actually happens. Also, one of the things people struggle with in high school is the drama and the gossiping about other people. There are many people that get angry for others talking bad about them but really they do it too.
There are feelings that people go through in school too. One of them is happiness where there are fun memories of the times they spend together. There are memories from homecoming, to winter formal, to prom, and then graduation. There were times in my high school years, where I just wanted to get my high school diploma and head to college. Another emotion is sadness that most often reveals when people treat you in a mean way and judge your actions, regardless if they were good or bad. Anxiety and stress also play a role when there were times where everyone had homework in every class or projects that overwhelmed them. The thing that caused me the most stress was the dealines and wondering if I was going to get the assignment done on time.
There will be memoriesand events that people miss from high school and other things that they just want to forget. Also, there are many memories that will be made along the way. Many people tried to tell me to cherish my high school years because you are only in high school once. I never listened to that advice until I found muself a quarter through school and I couldn't even remember where all the time went.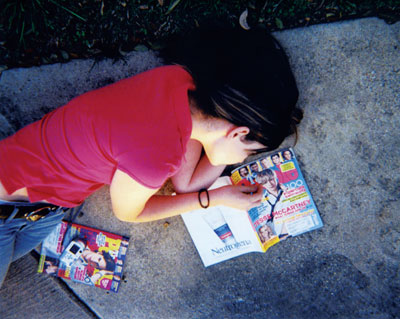 © Erin W., Highland Village, TX