A Day Out in the Rain
November 1, 2017
I like the library, it's a quiet and nice place. At that I wanted to get a small notebook to write in. Stay in the library or go to the mall to get something, those are my choices. That might be why I walk slowly out on the sidewalk. There is a baseball match near the library. Lightly some rain dropped on me, my choices are to turn back or continue on. I foolish believe I will have the time to make it to the mall and back for with enough time to find a book to check out, waiting grandpa to pick me up.
A small wet notebook was what I got from the journey. I didn't think much about it at the time since the people of the baseball match are still there. They seem to be having fun, through there are a lot of car parked on the sidewalk as I passed by. I can still hear them from the distance, ''Home run'', one of them said. The rain went from light to heavy when I got halfway there. From the distance, I look back to see the baseball team no longer there. It was my second warning but I was stubborn and got there, somewhat wet.
I thought it might be okay to stay there, but my gut told me that my grandpa does not know I'm here and when he comes to pick me up at the library, he won't see me there. He might go in to look for me but it'll be a waste of time and it'll make it harder for me to get home. I didn't want to stay in in the mall neither. It makes me feel bad for myself not having a phone plus the cashier told me, ''I'm sorry, but the phone is for the shop use only''. He won't allow let me to the shop's phone. I can stay in the mall or go back, I choose to turn back.
During the walk back, I did see my grandpa's car and I try to call out to him but he may have not hear me. My clothes are heavy from the rain and I have to take cover under a tree. Worried if there is going to lightning, it makes it hard for me. I also worried that when my grandpa's car turn back, he will call for help to find me while I'm under a tree. My clothes are less heavy as time passed by while I'm there. Not giving up, I walk out in the rain again. During the walk, I see a familiar car show up. My grandpa saw me, he looked angry. He yelled to me, ''Get in the car right now''.
Later on at home until I got a shower and rest a bit. I got scolded at home and the journey let me with a cold, but it also let me with the happy thought that my grandparents care about me a lot. It make me very happy and I decided next time I will be more honest to them about wanting to get something.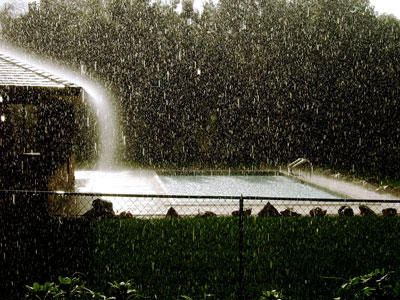 © Chelsea C., Auburndale, FL