The Land of the Free Because of the Brave
October 26, 2017
A life lost in our country is like a life for all those lost in the past. A flag with stripes of blue like the ripe tides of the oceans wave and red like the flesh of skin with battle scars is without a slip of a memory. The best part of the flag itself would be the everlasting stars that shine bright for the future of many to come. The main reason for where our country stands with freedom and patriotic pride is for the ones living in the country called Americans. It is lived with the moto "Land of the Free because of the Brave", due to the many sacrifices, devotion, and bravery that lead this country to where it is today. I believe in the patriotic rules of life and self-respect to others but also the land for the many deceased warriors.

The American flag is like the nations faith embedded to a single strand of thread stitched to fabric. I believe in a united nation forever that will thrive the guidance of intellect and to also stand before what others simplify have fought for in war.

Many famous sports players should be proud to stand and salute the flag for a well-rounded song called the national anthem. So far, it has been discouraging to watch free natives or maybe even foreigners not want to respect the nation's best prized possession. "The Land of the Free and the Home of the Brave" is a saying that will never leave America's side. As most soldiers took their last cry or maybe even breath there will still forever be discriminating people that I believe should open their eyes and see the truth of how the world has evolved. Changing in societies of racial threats and no care for how others are treated and the free life given.

I am a well-rounded American and proud of the generations of history an thrilled to learn about the countries origin and long ago existing wars. As I witness with my own two eyes of watching such an act of no respect it makes my heart skip a beat and tears fall down my cheek. Yes, I may just be an American but I have family that has forever spent their time in the force fighting. Rather than being safe and sound with the people they love the most and call their family. My grandfather forever a veteran risked his life and survived by the fault of his clever mind. Hiding under multiples of dead bodied to fulfil the promise of his saying "I will be back home in no time" made it almost seem impossible that I got to see him and graciously give him a kiss on the dry burn felt lips of his. The frail, thin skin on his hands felt burnt and crisp as I grasped it tightly like there was no tomorrow. I knew that there would be a story to what my grandfather has experience, but it was too bad that tears streamed like a river as he tried to hold himself. All though the military may be sinewy the overall strongest weapon they came upon is the American Flag.

I never knew what it would feel like to be a part of a recruit and have the disrespect of such cruel people, but I have been a witness a couple weeks ago myself of such an act. I could not help but take my eyes away from the unappreciative couple. I could not ever imagine what it would be like for military, navy or air force members to see. The national Anthem lately seems to have no importance in my eyes to others, but I feel that's what makes us liberal. Sacrifices are devoted just like how the warriors were, and that's what makes them brave.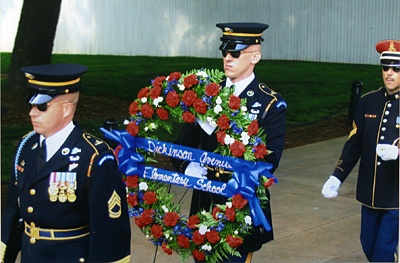 © Alejandra D., Milford, CT