The Last of the Really Great Summer Days
October 9, 2017
It is August 20th.

Already.

My papi steps onto the deck and graces across the yard to his morning spot. A book in his hand, he sits on the bluff overlooking the beach and bay. Inside, my abuela puts waffles in the toaster. Slowly, the house wakes up. My dad, uncle David and I finish our weekly golf outing on a majestic Long Island course. I won again. On our short ride home we stop at 7-Eleven. A tradition that always ends with Cracker Jacks, Arizona tea and Big Gulps. We relive shots and laugh at inside jokes the rest of the way down a winding Long Island road.

We walk into the beach house to find everyone awake. A miracle that all 10 of us are up before 11:00. It's the last day before my cousin Dylan goes to Virginia Tech. This gives my family a little more motivation to get going. I follow him around the house. We are cousins but it feels like he is my brother. Joined at the hip. Every moment is soaked in before I return to New Hampshire. It's going to be hard leaving him.

Living in the moment we bound down the wood deck and grab our boards from Papi's handmade shelf. Each one packed with memories and laughs of summers past and to come. Dylan and I continuously take trips to his car loading up chairs, towels and everything inbetween. The rest of the family seems to have stalled. My sister and cousin Kelly binge watch a new show. My uncle David in his spot on the outside couch. My mom and aunt Julie talking over morning bagels. Taking in mouth-watering flavors one last time. Long Island bagels are by far the best. My abuela and papi mingling in every conversation. Soaking in the last day with the entire family.

11:00 gradually drifts into 12:00 and my dad has finished packing the car. Bathing suits are on. Bags are packed with goPros and hats. We all get in cars. Kelly and I get in the classic. Dylan's blue Volkswagen Passat. The beach mobile. Dylan pulls out of our pebble driveway and as if on cue, the stereo gets turned up blasting our playlist the whole ride. J cole, Kendrick Lamar and 2000 throwbacks, all blending together. We cruise down a beach road, windows and sunroof open. We belt out lyrics with huge grins all the way to the ocean.

Ponquoge Beach.

I read the two words of the sign for the thousandths time. Two of the sweetest words I can read. We find a spot in a packed lot. We unpack all the cars and trek down the familiar path through dunes. Soft, sand seeps through my toes. Salty, sea air reaches my nose. Familiar sound of waves slamming onto the beach reach my ears. I stumble along with my hands full, surfboard, a chair and cooler all weighing me down as I desperately search for a spot. Finally there's a spot big enough for all of us and we plop our stuff down. Beach chairs get propped up and blankets spread out. We survey the waves hoping there is a couple good rides to end on. The waves zig zag all over the place so we wait to head out.
The family sits down and eat David's delicious sandwiches with fresh New York bread we all love. The flavor fills my mouth instantly. We devour the sandwiches that thankfully didn't have any sand. I look around at my family gathered on this beach already counting down the 302 days until next summer.
I move sad thoughts to the back burner and pull my brother ..sorry, cousin easy to mix it up.. out of his seat urging him to get his board. I tightly wrap the leash of my Cinnamon Rainbows hardboard around my overly tanned ankle. He does the same and we leap on our boards and begin the long paddle out.
Fighting through white caps we push out past the break and plop down. We both avoid the elephant in the ocean. This is our final time surfing together for a while. We fill the air with small talk of conditions and football. Soon enough waves are rolling in. He's older … as he lets me know enough.. So I let him get the first wave. A quick crasher to the left. He doesn't like it and turns to paddles back out. The waves slowly settle as we alternate ride after ride. Sensing high tide was coming we got ready for one last ride. The next set of waves comes in, none seeming spectacular. Then out of thin air a perfect swell appeared. With one glance over we both knew this was the one.

We furiously paddled, ocean water spraying into my eyes and mouth. I feel the push and hop up, carving a sharp angle into the wave. I look over to see him fighting through sea foam as we ride one last wave into the sunset. Together. Poseidon himself couldn't wipe that smile off my face. Although the grim reality of summer ending set in I realised as long as there is my Long Island beach and my family I will be happy.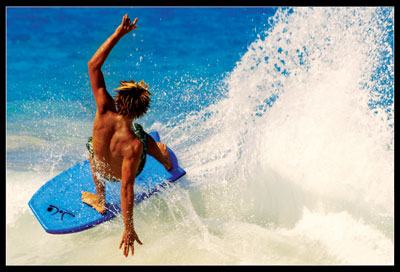 © Sarah L., Holualoa, HI