Make Lemonade, Not Orange Juice
October 4, 2017
Don't you hate it when people are being petty? They're always giving uncooperative, childish, and stubborn behavior while focusing on things that are of little importance. Won't they would just shut up and quit making a big deal out of it? Ever wish petty people would just get the punishment they deserve? If you're reading this, you're in for a treat!

Let's spit facts out before we get things started: I am a stubborn person. I can be petty at times. Honestly, we all can get petty once in a while, right? Jacian Wynn, how could you be such a hypocrite? One paragraph ago, you just ridiculed pettiness. You're right, I did, and it sounds like I contradicted myself. After some careful analysis on people's behavior, I noticed that actually everyone is petty at times, although we may not realize this. However, we all have our reasoning for acting like a 'female dog'. I can be slightly obsessive compulsive. I am the type of person who likes their belongings organized, their schedule running smoothly on time, and someone who's always keeping it neat and tidy. I'm the type of person who is always trying to avoid anything that may trigger bad luck. I'm the type of person who will act superstitious by not "stepping on a crack" or "walking under a ladder." Whenever something isn't correct or not going as planned, I'm the type of person whose gears will start grinding. I'm the type of person who gets irritated at not perfecting my work. But learning an important life lesson changed the way I've become and it's changed the way I live.

A few years ago, I was on vacation to Florida with my mother and younger brother. My father stayed back home here in Fort Worth to continue working. The three of us stayed in the city of Orlando for two and a half days. Thus, there was such limited time because we planned on flying to Miami after visiting Orlando. Luckily, there was enough time to visit Walt Disney World located near Orlando within the two days.

Disney World: at some point in almost every kid's dreams, they desire going to the magical place of fantasy. A dream of being in the world of festivity and imagination running wild. Creativity, curiosity, and charming wonder lurks in all corners of this popular vacation resort. I still get tingles of pleasing bliss lingering in the back of my head thinking about Disney World. Some adults even have a life fulfillment of going to this magical place, some taking their families with them on vacation. Unfortunately, most visitors only have the chance to go once or twice during their lifetime. It's truly a rare opportunity to enjoy this very expensive 'heavenly' destination. Of course, it's highly advised that tourists do some well thought planning before making their visit to the kingdom of paradise.

Disney World consists of four major theme parks, the Animal Kingdom; Hollywood Studios; Epcot; and last but not least, the famous Magic Kingdom, which serves as the face of the theme park franchise. The total square area of Disneyland in Anaheim, CA is roughly the size of each of the four theme parks. Disney World certainly lives up to its name because it also includes lagoons, water parks, hotels and resorts. It continues to remain the most frequently visited vacation resort in the world. However, my family had to consider how to compress our short amount of time to spend there. We spent some time carefully planning and concluded that we would visit one theme park per day in a span of two total days. Our first day was planned to be spent at the Magic Kingdom and the next day at Epcot.

As a particularly intricate individual, I wanted to make certain that we would have the best time at a special occasion like Walt Disney World. Our vacation plans were set up, bags were packed, and the tickets were bought. Unfortunately, it all happens to us at least once: there will be delays, altercations, mishaps, and cancellations at times. Little did I know, these minor problems are much more of a pain than I thought they were.

It was a humid, bright Tuesday in early June, a perfect day to start off the summer break. The Florida heat packed quite a punch, but it was just warm enough to enjoy a sweet vacation day. At about 8 A.M., the hotel shuttle bus toured Disney World visitors from the Quality Inn to Lake Buena Vista where our memories would begin. Feeling ecstatic, my brother and I couldn't wait for the moment to come where we would reach our destination. All passengers were dropped off at the bus service facility in the main entrance parking lot where other shuttle buses commuted tourists as well. The bus driver had made clear the strict exact departure times where passengers were expected to be picked up. Of the three scheduled departure times (6:30 P.M., 8:00 P.M., and 10:30 P.M.), we decided on the 10:30 slot to spend as much time as possible at the Magic Kingdom on the first day. If any passengers are late, the bus will leave without them. Some visitors who owned a car, which we did not, were free to leave whenever they'd like. The bus passengers do not have that convenience.

Upon walking into the entrance of the Magic Kingdom, I was instantly overwhelmed at my breathtaking sight. Scenery of exhilarating rides, bursts of laughter and cries from joyful children flowed around in the environment. It became a vivid dream coming to life. Space Mountain, a thrill-seeking indoor outer-spaced themed roller coaster, nearly sent my racing heart to back of my spine. We enjoyed spending our time until early afternoon when one of Mother Nature's bipolar mood swings hit Florida. The weather quickly transitioned from beautiful, sunny day to dark, gloomy skies with mild rainfall. Luckily, the showers subsided and our day was not ruined. Usually, a slight delay wouldn't bother me much, but I dread walking through wet mud puddles and getting my shoes soggy, which gives off a damp odor. The rest of the day went by satisfactorily, I specifically recall the perfect ending to the day watching the spectacular nighttime "Happily Ever After" fireworks show that featured vibrant lighting effects that illuminated the sky directly above the outer flashing glow of the Magic Kingdom's main Cinderella Castle. The magnificent, breathtaking view of the fireworks are worth watching and the show lasts a solid 20 minutes. Exhausted and worn out from the long active day, the three of us returned to the parking lot shortly before 10:30 P.M. where passengers were driven back to their hotels. I anticipated the next day to be as fun as or even better than the first day. But what do you know? Life is full of surprises.

Epcot is a utopian city-like theme park that's much more suitable for mature-minded individuals, like me, who are astonished by futuristic advancements in technology. The park is one of the more quiet, relaxing, and scenic areas of Disney World and is less fantasy themed. Younger children won't find it very interesting, but most adults certainly would, especially Epcot's main attraction: the World Showcase, which is a preview of eleven displayed pavilions representing a specific country from around the world. The series of countries (Mexico, Norway, China, Germany, Italy, the United States, Japan, Morocco, France, Britain, and Canada) are centered on a reflective lagoon. There aren't many thrill rides but there are several movies, boat rides, and shows that give visitors an overview of the country they're in. We made plans for Epcot, which included visiting all eleven countries and tasting enticing delicacies from each country like Fish and Chips from Britain, croissants in France, ramen in Japan, pita bread in Morocco, and lastly, gelato ice cream in Italy, which I had planned for the end.
Unfortunately, heavy rainfall had fallen like the day before and we have to wear rain ponchos while enjoying the attractions indoors. But even while being soaking wet from walking in the rain, we had the chance to eat all the food we wanted in the countries visited, which made it worthwhile. We did decide to save the gelato for the end of the day as a dessert to top off our trip at Disney.
Subsequent to the afternoon hours of pouring rain had settled down, we rode on some of the more exciting and thrill-seeking rides such as "Soarin", a flight simulating glider that views a scenic area world tour. Test Track, a high-speed simulated vehicle racer, was our last attraction of the day but the waiting line was lengthy and took about 45 minutes in total before we left the attraction at about 7:25 P.M. My brother and I had a blast riding the machines of adrenaline rush, but my mother did not ride with us because of her fear of heights and she opted to stay outside waiting for us both. I did not think about it at that moment, but it wasn't until later when I realized that my mom could've bought gelato during the time we were waiting for the ride. By then, it was too late. After Test Track, there were 35 minutes left till the bus pickup time at 8:00. There was only one thing left on my mind to end our relaxing day at Epcot: Italian gelato. My mouth salivated at the thought of the creamy ice cream dessert. It was the one thing that I insisted on eating at the end of the day.

However, I had not taken account the little time left in the day would be such a rush. I was not thinking rational during that moment. What's even worse was the fact that the Italian Pavilion was located on the other side of the park away from the parking lot. My mind was boggled from the crazy events that happened during the past couple days, my exhausted body was aching with pain from walking through rain puddles and miles around Disney World. I was overwhelmed with adrenaline flowing in my veins. My mouth begged for water and was starving for a sweet treat. This was our only chance to have a perfect Disney World visit, one we'd remember for the rest of our lives. My mom initially answered with a firm "no" to buying gelato, but she also figured there should be enough time, so she changed her answer. We rushed over to the gelato stand but unsurprisingly, the line was long. By then, the time was 7:40 P.M. and it was too late to turn back. After nervously waiting, we paid for the gelato and hurried back to the parking lot. There was certainly no time to eat the dessert, but we soon realized the lot was about a mile away. Minutes ticked by and my heart raced. My mom frowned at me and said, "Just go run to the bus driver and tell him to wait for us." We had already agreed to the 8 P.M. departure so time was of the essence. That spelled: 't-r-o-u-b-l-e'.

The alarming seconds raced by as I took off running to the entrance. My body was getting physically drained of energy step by step. My vision blurred rapidly and the only thing on my mind was Time, I have to go before I run out of time. Running out of breath quickly, I finally made it to the parking lot where other visitors stood by. Minutes later, the bus arrived at 7:50. Being the last one to board, I asked the driver, "Could you please wait for my mother and brother? They're running late." I gasped with my throat parched. "Should've been here about 15 minutes ago, man." I apologized for the inconvenience and assured they'd arrive anytime soon. After what seemed like an eternity, my mom and brother made it onto the bus. The scowling expression on my mom's face gave me a death wish. Both were exhausted and drenched in sweat from the heat. Sitting in my brother's hand was a sad cup of melted gelato with a little plastic spoon sticking out of it. I slowly sat down in one of the bus seats with fatigued head pounding and stomach growling to regurgitate. In such utter disbelief, I attempted to think through the events that had just unfolded, wondering how a little inconvenience like that be such a costly mistake. My face fell into the palms of my hands. Why me?

I learned an important lesson that day: life always wins. No sane person should dare rebel against life. It'll ruin your plans and give you your worst moments. Suck it up, buttercup, it's the truth. Was it worth going through the painful trouble just to get a cup of gelato. Definitely no. Did I have a good time enjoying my vacation? Could've been better, but yes. Did I let my obsessive compulsiveness control my life? Absolutely. All I wanted was the perfect day on a perfect once-in-a-lifetime vacation and I nearly spoiled it. Daily pleasures are meant to be savored and enjoyed. Things that are given should be appreciated no matter the circumstance. We human beings have the tendency to get so caught up focusing on the little things, we're forgetting the big picture; enjoying life, spending time with family and friends, being ourselves. Some things are meant to not be fixed, simply because they were never broken to begin with. When life gives a person lemons, don't try to make orange juice.
`
Make lemonade.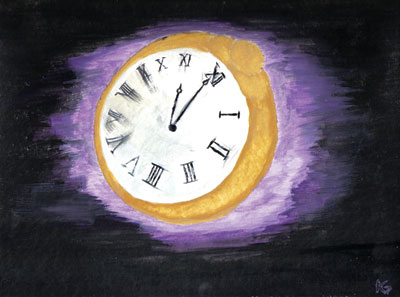 © Kyle G., Clarksville, TN