A Teenage Girl's Lament
August 31, 2017
15% of myself is confident, and the rest is totally not. That 15% is the hidden away narcissist everybody has (I hope) that nobody ever dares to expose in public, unless you're a Kardashian or Jenner. This self-obsessed diva only rears her ginormous head on Instagram posts and Facebook profile pictures. Even those photos are veiled with unsure filters and at least two friends validating me pre-post. The rest of me feels helplessly lost, shifting between fake personas.

When I look back at my Facebook profile picture I think I look pretty, but then I look in the mirror and I see a completely different person, without the shiny straightened hair and sharp cat eyes. Channeling my inner philosopher I ask: Who even am I? Am I the quirky cool one who rocks her mother's old clothes passing them off for the latest trend, and talks candidly about having big boobs? Am I the chill artsy one who wears flea market thumb rings, writes slam poetry and doesn't give a single FUDGE? Am I the funny outgoing one who puts stickers of Melissa McCarthy Sean Spicey on her computer, wears button downs decorated with broccoli and enjoys rare memes? Or am I the eager to please, self-deprecating girl who can't tell a lie, doesn't have the confidence (or money) to wear those retro overalls from Urban Outfitters, is afraid of feeling lonely and who gives all the fudges in the world? Yeah, that one sounds the most realistic.

I wish I had the same confidence I spout woman need in the name of feminism and equality. I try my hardest to be quirky, chill, smart, relatable, funny and liked (all at the same time!), but instead I feel in my heart that I am simply an eager beaver, desperate for attention, validation and love. How am I supposed to uplift other women if I can't uplift myself? Good question, right?!

Since I do theater, people assume I'm super outgoing and confident. I recently realized the reason I love theater. I love it because I get to become someone else. That way I don't have to worry about people liking me, because I'm not me anymore. I'm Peter Pan, the OG baller, or Audrey, the dumb blonde, or Golde, the overbearing Jewish mother (that one is too close to home!). If life were simple and easy I would still want to pursue a career by making a fool out of myself onstage, but life is mean and competitive. I'm already beating myself up every hour, so why do I need to go on auditions just to a more "professional" slap in the face. But, of course, that's the world we live in, so I'm stuck living in a vicious circle, bouncing from bully in the world to bully inside my head. Doesn't it make you feel all warm and fuzzy inside?

What usually makes me feel better is sliding the blame onto someone else. My victim of choice is, hear me out, the capitalist patriarchy. My worth is based on how I look, so I can only be confident when I feel pretty. Because of this, my self-value is hugely based on the way I look, allowing me to pick myself apart and want every product Cosmo advertises. Yeah, yeah, poor me. I don't want any pity, I just wish from the bottom of my heart, that my self worth could be based on something else, anything else. Not to be pessimistic, but it feels too late to change my mindset. Even if I did change my mindset, I can't change the mindset of the world. So there really is no way to win! I would tell you to love yourself, but I know that if you're an awkward insecure teenager human, you probably don't. So, all I can say, is I'm with ya pal.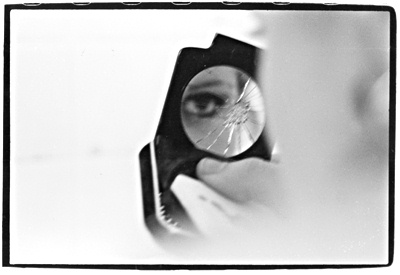 © Heather W., No., Brunswick, NJ