Writing
July 4, 2017
Sometimes I wonder why we write. I know that I love for other people to hear my words, but it is also for me, and as selfish as it is, I feel ready to create. Writing is a way for me to show other people that what seems mundane to me, isn't mundane to them. Trivial and specificity are subjective.

All of your brains work differently. As children, we develop new synaptic responses to new stimuli, and we learn new basic human functions--how to breathe, eat, walk, etc. Although, during adolescence, we go through a process called synaptic pruning. During this process, our brains clean out the synaptic connections that are no longer used. My hope is that the synaptic pruning that occurs with me is saved by someone else.

The violinists and the artists will not lose their talent, yet they may not be able to tell their stories, and that's something I will never take for granted. Always creating, always something.

I hope that I will always write for the rest of my life, but I've never actually wondered why. Why is writing so vital to my mental state? The feeling of finally articulating my thoughts into specific language that others can understand and interpret in a different context allows for me to feel a little less alone. Something that I worry about is forgetting about now. Many writers that I know love writing fiction and escaping from our current reality, but I want to dive in deeper. I love exploring and expressing stories and why we do the things that we do. We won't be leaving this place anytime soon, so I might as well make sure we're living the best version of it that I can.

Writing is an expression that is unprecedented to any other art. You can paint fear, you can sing fear, you can play fear on your sixteen million dollar viola, but I can show why fear is so vital. I can show a woman's tendons pulse out of her neck, and I can tell how her hands became clammy. That is why writing is so important to me.
While I enjoy other people reading my writing, I think it's for me. I believe it is a way to breathe my thoughts into some other medium, and it is certainly a way of connecting with myself in a way that I would never be able to without a pencil and paper. Even if I don't write daily, I will always be a writer: I eavesdrop on conversations, notice what fear looks like, and constantly have a pen and journal in hand, ready to take notes on the world around me. And to be honest, I don't think that I'd ever want to be anywhere else. I hope that you enjoy this reality as much as I do, so keep reading. Non-fiction is nowhere near dead, for our lives are non-fiction. We are the essays and stories that we tell.

I spend a large majority of my time searching for creative non-fiction prompts, due to the pure lack of motivation or lack of interest in my own life. Before I started writing and reading creative nonfiction, I didn't understand the appeal of reading about someone else's life. Seems mundane and repetitive. The ideal life, which is usually portrayed in fiction due to the complete lack of comprehension of what is plausible, is boring. Fiction is a stretch of the imagination, which I admire of course, but I don't like to get into other worlds. It feels like a waste of time to immerse myself somewhere else when I'm in this reality. Not my thing. Not that I don't enjoy reading certain fiction, such as Wallace, who is my favorite writer.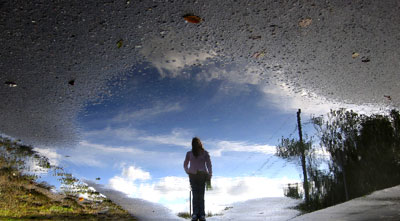 © Daniel H., Oak Bluffs, MA