Love Is Simply Not Enough
May 29, 2017
We knew that we will be walking down the excruciating memory lane, very soon. We knew that the misery of separation is inevitable. The odds were against us. We knew that we love each other and this love is unconditional. But at the end, we knew that this not just misfortune, but also an act of cruelty of breaking two hearts.
"Do you love me or do you just need me?" I asked him.
"I don't know what love is. But if something hurts you, and I can feel the pain is love then, I love you. If caring about someone, the most is love then, I love you. If someone touches you or gets close to you, in an inappropriate way and I feel like killing them is love then, I love you." He replied with a smile.
I felt a twinge in my heart. I could remember the night when tears were rolling down my eyes and I had made a vow to never leave any space for love in my life. But then, I met him. He wasn't like the calm waves of the ocean that try to reach you, gingerly. He was like the waves that make strongest attempts to reach you and take you with them. And he did. He came like a ray of light in the dark woods that had been wishing for true love. He awakened my soul with the melodies of love.
I was in love with him. Not the extraordinary type of love that you read in books. The type of love that makes you forget about everyone who broke your heart. The type of love that makes you want to love again. He wasn't the perfect human. He was bad at making decisions. He was short tempered. He used to cry and rant about life. But I still loved him and my mediocre love was more than enough for him. He gave me love when I thought that I can never get any. But some people come in our life to evoke the long lost feelings in us, and to enlighten our life with optimism. Sometimes, they can live in our heart forever, but not in our life.
"Mom, what is going on? Stop all this. I don't even like her. I love someone and you know it. Why are you trying me, to get to talk to this girl? I feel like you're trying to start things related to marriage between us that are unwanted by me." He yelled.
"Have as many lovers as you want. I don't care. But, I will choose the bride for you" She told him.
The painful sound of reality reached me. I'm not blessed with any psychic ability like precognition, but I knew the future. The crystal clear prophecy had spoken about itself, in the most concrete terms to me but the faith in love was making me believe that this is just an obstacle. Shakespeare's words that, the course of true love never did run smooth, occupied the space in my mind. We were standing on the gate of reality but none of us was ready to enter the mansion of dreadful truth. We kept running away. The truth was that his mother didn't approve us. She knew that we loved each other but, that was not what she wanted for her son. I was not the one. But then was it our positivity that made us ignore the facts, and still made us believe that things will get back like they were, or was it the faith in our love? Both, I assume.
Lost in confusion, avoiding my intuition, and in desperation to get an answer, I knocked the gate of the Church to ask God to help their child by giving a sign. God had already, given the sign by the torturous art of speech which came from the mouth of a human, but he saw that his child was still, lost in the dilemma and illusion of the love. He would've thought who could now help, to make my child comprehend, and believe the bitter reality who is on her knees in front of me. So, he instructed the voice of my inner self to whisper the truth in my ears.
My intuition was speaking louder than the facts that I was finding hard to accept, but still the deliberate act to make myself believe that the possibility of positive outcome is more, was performed by my mind. It was a struggle between my intuition and the facts that had been spoken clearly.
My phone was ringing. I picked up the call and he was on the other side.
"I need your help. I'm not able to understand anything. I love you. I can't leave you." His voice was trembling.
"It is a choice that you have to make. You have to either choose your parents or me. Don't go against them. Do as your mother says. I cannot love you as much as she has, in all these years. I cannot take care of yours as much as she has. Don't choose me over her." I said and I broke into tears.
"I choose you. I choose you. I can't leave you."
"Let's meet tomorrow. We will try to solve this or I'll see you for the one last time before saying goodbye." And I disconnected the phone call.
The sky was cerulean blue. My clammy hand reached out to fill the space between his fingers. I looked at him and I realised that I had never been in so much love with brown eyes before.
"Do you think after 5 or 6 years if our families get to know each other and everything goes good then your mother won't have any objections?" I asked.
"I don't know." He answered.
"You know that this not just about us. You need to get the answer for yourself. Will she let you marry a girl, of your choice at any point of your life if you fall in love with her?" I instructed him.
"I am going to ask her. I need to get the answer." He said.
We knew the answer. But humans are complex organisms. Not just in biological sense, but also in terms of emotions. We keep satisfying ourselves by manipulating our mind. We find it hard to accept the truth straight away. Just like we were finding it hard to accept that the time to say goodbye is approaching.
"I am going to talk to her about everything." Text popped on my phone's screen.
"Okay. I love you." I replied.
I knew the season of heartbreak was approaching. Nights will drown me in his memories. Maybe most young love ends like this because of its innocence. Accepting reality was tougher than I thought and my mind was making best attempts to fool me that I will be the one who will walk down the aisle for him. But maybe I was wrong.
After 5 minutes, I received his text.
"Mom told me to just stay friends with you. She told me not to give high expectations to anybody. I asked her that will she let me marry a girl of my choice if I fall in love with her, after 5 or 6 years. She told me that not now, and not even after 5 or 6 years. She has a lot of expectations and dreams for me. It will be an arranged marriage. She told me that she will choose the girl for me and she knows who will be the right one. She told me that I can have girlfriends and I can have fun but she will choose the bride."
The foundation of a love relationship begins with a belief that we will spend the rest of our lives together. Two innocent people, bewitched by each other's love begin to live together with the tiny hope that their love is eternal. But what if someone comes and tells you that your love is not eternal and breaks the foundation. Still bewitched by each other's love, but knowing the ugly truth that they will be separated, two hearts die a miserable death.
"I tried to be the best version of myself to keep you happy. You have no idea that how much your happiness matters to me." I messaged.
"I never loved anyone more than I loved you. I never cared for someone more than I cared about you. So, stay safe and take care of yourself because I won't be there anymore. Sorry for everything."
"If it's meant to be, it will find a way."
"It will. I know."
"I love you. Always have, always will."
"I love you more. Always have, always will."
In some part of the World, love dies a miserable death because it is not limited to just two individuals. In some part of the World, a marriage is not just between two people but two families. In some part of the World, the purest love gets annihilated by the barriers of society. In some parts of the World, a mother tells her son that no matter how much he loves a girl but she cannot be the bride because they have a lot of dreams and expectations. In some part of the World, two people cannot spend their life together just because they love each other.
We knew that there was no point of pushing through. It wasn't my mistake but it wasn't his, either. Who was to blame for this?
I loved him. I still do, but it wasn't enough for us to be with each other. There are objections by the society about considering love as the essence of the marriage. People say that if you don't love each other then there is no point of marriage. Irony is that when it comes to marriage everything apart from love is prioritised. We accepted the harsh reality and took two different roads. I don't really feel that bad when I think about it, now. He came in my life like a fresh breeze and then left. I don't feel bad because without realising he did a lot for me. He made me feel loved. He made me feel wanted. He made me realise that I can love someone too. I collected all the treasures that he gave me, packed them up in my bag of experiences and left for another journey. We were too young to think about marriage but we were living together with the hope of a future that we will share together because we loved each other but destiny dragged the truth in front us, and made us see that love is simply not enough.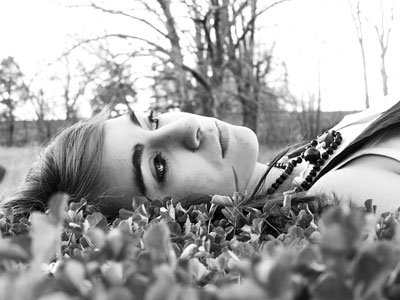 © Jasmine R., Bourbon, MI