The Government Should Do More to Address Homelessness
February 3, 2017
The basic level of homelessness is citizens having no homes to live in. Homes need to be safe, secure and connected. It has to be more than just shelter, which is why the government must do more.
Homelessness isn't just about housing, its also about the rights for humans. Homelessness is a human rights issue because access to safe and secure housing doesn't appeal to every person. It is commonly young people, women and families staying in refuges or crisis accommodation. Boarding houses and caravan parks can also be considered as homeless. People that are homeless have many different reasons to why they're homeless. Reasons such as domestic violence, loss of money or family and lack of skills for jobs.
In Australia, there are 105,237 people who are homeless. This is due to the many reasons and human rights. The Government is not doing much about the issue which makes it lead to boarding houses, caravan parks, camps, and refuges. Therefore, what this all leads to will end in a result of too many people becoming homeless.
Citizens of Australia are homeless because of system failures, structural factors and industrial circumstances. What this means is that the Government is failing to provide housing for homeless people. The Government has very few refuges, boarding homes, camps and caravan parks as homeless people don't have enough money to buy a caravan. Structural factors of homelessness include unemployment, poverty, a lack of affordable housing, housing policies, the structure and administration of housing benefits and wider policy developments such as the closure of long stay psychiatric hospitals. Results from 2011 state that homelessness is a rising issue. Homeless people in boarding houses were at a 74.8% mark for the males, and 25.2% mark for the females. Homeless people who sleep rough meaning outside, are 67.6% male and 32.4% female and homeless people staying in supported accommodation is 49% male and 51% female. Homelessness Australia is doing something to help with this issue by speaking to the government and working closely with the minister responsible for homelessness, housing and their advisors.
The Government should the homeless people for many reasons. One of the reasons government should help homeless people is because many homeless people have mental disabilities. Some can not work for themselves and they need their medication to stay alive, and with help from the government they can get back on their feet again. Many homeless people need assistance. There are homeless people that are mentally and physically broken, in which they may need a doctor or help. Homeless people have a rate of 44% who are female and 56% male. 25% of those people are Aboriginals and Torres Strait Australians, however 30% of the people came from overseas. In 2006, 20.7 doubled from 22,789 people. Many people walking past homeless people on the streets have thrown money to homeless people, but this doesn't change the fact that the victim does not have shelter or a warm home to live in, or food to eat everyday.
In conclusion, everyone is human as is the government. The Government is for the people of Australia and without us there is no government. Shelters could be built for the homeless and with our skills, money and resources it would be simple to do, and don't have to pay the homeless or people who support the homeless. If the Government made a change we would be saving lives and families from falling apart.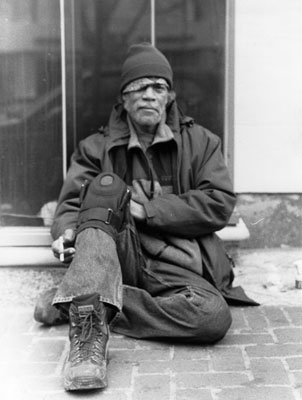 © Marie D., McLean, VA