Many Misunderstood Mornings
December 13, 2016
Back at the Pre-K I went to, we were forced to have a nap time. Man, I didn't know how good we had it. At the time, I wanted to do anything other than settling down on a cheap cushioned plastic mat. Now that I'm a high school student, I would love to have a nap time. Between practicing for band, attending winterguard rehearsals, and completing the homework that I've been assigned, I usually don't end up going to sleep at the time I'd like. Did you know that one study found that only 15% of teens reported sleeping 8 ½ hours on a school night? No wonder we're all so tired! Teens are supposed to get eight to ten hours of sleep, yet the vast majority of us are being forced to function on less than that. Now, I've always been a pretty empathetic person. I think of how other's situations may be different than mine, and I also think of how every action has a repercussion of some sort. However, there was one morning, where I could have been a bit more empathetic. Having empathy at all times can help improve both your life and others.

Between the thick comforter and the fuzzy socks decorated with sloths, I was pretty cozy. Charlotte and Daphne, my kittens, are curled up and purring happily on the pillow next to me. My room is dark, and without my contacts, I'm blind. Barely awake, I try to make out the red numbers on my alarm clock. "Surely that can't say that it's 7:28… right?" I mutter to myself. I squint and lean closer to the clock. It turns out my eyesight isn't quite as bad as I first thought it was, because I had somehow managed to be correct in my reading of the flashing red numerals. Startled, I practically jump out of bed. I set my alarm clock early about thirty minutes, so I'll theoretically always be early. The problem is that my family has to leave the house no later than 7:00 in order to drop both myself and my sister, Paige, at our respective schools. Living about fifteen minutes away from our schools, running late is pretty stressful and annoying.

"Brooke, get up! We need to leave in five minutes!" My sister half-yells from the bathroom as she shakily applies clear mascara to her blonde eyelashes. Paige wakes up around 6:00 to straighten her hair, and then she goes back to sleep for another half hour before waking up again to fix her golden locks for the second time, get dressed, and occasionally apply concealer and mascara (being only in sixth grade, she's not allowed to wear makeup for another year).

While Paige is deliberating as to which pair of Converse would go best with what she's wearing, I'm frantically trying to get dressed. I grab whichever shirt I'm in the mood for (if I'm especially lazy, I'll throw on my beloved Oklahoma University sweatshirt, but that's only happened once this school year) and throw on a pair of jeans as I rush to the bathroom. I grab my brush, and try to fix my long bangs. Fortunately, my hair is naturally pretty straight, so I don't have to do much to fix it. I don't mess with makeup because I like going natural-faced, and there isn't enough time anyways. My dad calls from the kitchen, announcing that we need to leave, I tell him I'm not quite ready yet, and that was where the incident occurred.

One morning, my dad was exceptionally tired as well. I had overslept, and we needed to be at school early for something of Paige's. I could sense the tension in the family because Paige was running a little late too. When my dad said that we needed to go, I responded in a way that was probably not the most friendly. The rest of the ride was tense, and nobody talked the whole ride. As I said earlier, I'm a tired person in general. Band, school, guard, and church are all varying degrees of tiring. All of them are time consuming to an extent, and it's difficult to get home at a good hour at times. It was really annoying to me that I was being told something I already knew, and I was stressed out because of our lateness as well.

My dad is a financial advisor, so he needs to get to work as well. After he drops Paige and I off, he returns home and gets dressed before going to his office. Perhaps he had a client he needed to see that day. It's funny how you never really think of the needs of others until what's done is done. It must have been annoying to have to wait for my sister and I to get ready, especially because it was our own faults that we were running behind.

By looking at things from my dad's point of view, it has helped me realize that others have their own priorities as well, and that one event may affect another. I've learned that it is best to think of others before it is too late, and to set your alarm at an adequate time. I don't really see the situation in much of a new light, because I felt a similar way that my father did. It's best to remember that you do have impacts on others. For example, imagine if everyone in our school practiced empathy. There would be little to no bullying. Breakups would hurt less, or not hurt at all. Everyone would be more open with each other, and our school would become closer as a family. Imagine what Piedmont could achieve if our whole community was empathetic. People would be more likely to help each other, and our small town could achieve great things, and maybe even change the world.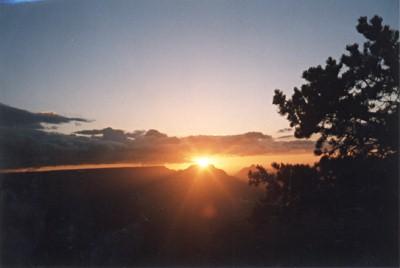 © Amanda T., Scituate, MA