Welding: A Story of Failure
MAG
February 2, 2016
Pulling the helmet down over my face, I immersed myself in the task at hand. Finally, after fumbling around blindly, I found the 3-inch pieces of steel I was determined to melt together. I was enveloped in the darkness of a welding stall wearing an oversized apron, cumbersome gloves, closed-toe shoes, safety goggles, and a large, light-blocking mask that made me look more like Darth Vader than the small freshman girl I was. The sweltering heat was unbearable, and the heavy equipment only amplified it. Sweating from head to toe, I was surely going to look a mess for my next class. A week into the semester, this was my first assignment in Metals and Welding, and quite honestly I was terrified.
When I signed up for classes, I wanted to try an interesting career-technical course. Unfortunately, it didn't begin the way I'd envisioned. It was the first day of school, and Metals and Welding was held after lunch. Being a freshman, I had accidentally thrown my phone away with my tray. I searched until the bell rang, then hurried to class, checking my schedule to ensure I ended up in the right place. Arriving, I was blocked by a huge, intimidating door. I knocked and waited. A tall male student opened the door, and the teacher looked at me and said, without emotion, "That's your first tardy. Two more then detention." Oh no! I thought. It's the first day, and I've already made a bad impression! I glanced around, taking note of my classmates – mostly older boys. In total there were two girls and just three other freshmen. Quickly taking a seat, I began to worry. I clearly didn't fit in; how would I get through this semester? I knew absolutely nothing about welding. Listening to the teacher introduce unfamiliar terms and complicated processes, I could barely hold back my tears.
The next day, the instructor discussed safety. He shouted loudly, peering through his Coke-bottle glasses, "Always wear goggles and ear protection! Otherwise you'll end up like me – half deaf and blind!"
I sat in silence as the hour progressed, staring at the rubric in front of me. A grade of 4, or 100 percent, required absolute perfection. A grade of 3 – 85 percent – required the metal weld to be nearly flawless. I had never done this before, so I wasn't sure what to expect. Would welding be easy? The other students, predominantly senior boys, didn't look worried. They weren't in any of my other classes, but I became increasingly impressed by their welding talent.
My first assignment was a simple edge joint, and after aggressively moving the torch back and forth, I finally finished. Surely my weld would be satisfactory. I had spent the entire period in preparation, cleaning and cutting the pieces of steel. I removed my mask, walked out of the stall, and dunked the scalding metal in the cold water bucket, jumping at the sizzling sound.
Now, my work was up for inspection. I handed it to the teacher, knowing that while not perfect, it wasn't bad. He circled my scores on the rubric, and handed the weld back to me, calling for the next student. Horrified, my eyes took in the number at the top of the page: 16 out of 20. That was barely a B, and I was aiming for a 4.0 GPA. Was my work really so awful?
Determined and desperate to improve my skills, I spoke with the teacher after class. He explained where I'd gone wrong, and we discussed how I could find extra opportunities to practice.
For the next four months, I spent all my resource blocks in the workshop, ferociously completing various projects. I came to appreciate the vibrant glow of ultraviolet light, and my hands, though not those of a professional, began to handle the materials more deftly. Learning the unique trade of a welder, I was introduced to a new skill, completely different from my Algebra, English, or Biology classes.
I could tell you that I worked hard, became a master welder, and earned a solid A due to perseverance and dedication. But that's not what happened. On my report card that semester, I received one A minus – in Metals and Welding. When I looked at my transcript, forgetting everything else, I saw this as a complete failure.
When I informed one of my older friends of my unfortunate predicament, she cavalierly said, "Aren't you glad you got that over with?" At the time, her comment seemed harsh and insensitive. But now, I see: With that A minus, I was freed from the oppression of perfection. I no longer had to fear; I could challenge myself, no matter the outcome. While my peers steered away from engaging courses, I could meet them with excitement. It was like the first ding on my new car, giving me the liberty to enjoy the vehicle. That first "failure" enabled me to focus on the experience rather than the outcome.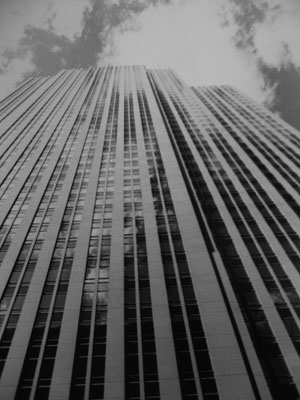 © Aaron B., Eagan, MN