I'm Afraid of the Movies
MAG
October 4, 2015
I was four when I set foot in a movie theater for the first time.
It was November 2001, and a chill was in the air. My tiny hand clutched my dad's huge one as he led me to the concession counter. I was hardly paying attention to where I was walking. The room was full of color, movie trailers were dancing on TV screens, popcorn was popping, people were laughing. I had found my favorite place.
I was so excited. It had been several weeks since the 9/11 attacks, and my dad had been working at Ground Zero nonstop, for days on end. This was the first day I'd spent with him in a long time, and I was so happy.
He took me to see "Harry Potter and the Sorcerer's Stone," which is why my mom partially blames him for my obsessive love for J.K. Rowling's series 14 years later.
I'm pretty sure I closed my eyes during most of it – definitely when He Who Must Not Be Named unleashed his dark powers on little Harry's parents. But I was captivated by the whimsical, magical world of Hogwarts. To this day, I'm still a hardcore Potterhead.
But this isn't about Harry Potter, even though I'd really like it to be.
My dad and I still go to the movies together on occasion, but not as often as we did when I was little. Now, I've sort of stepped into his shoes. I've taken my younger brother and cousins to see countless animated films and PG comedies, from "Madagascar" to "Frozen." I really enjoy the looks on their faces when they walk in, the same happiness and excitement I had when I was little. Something so simple can make people so happy, and it's remarkable.
Lately, though, I haven't been paying much attention to my little moviegoers-in-tow. Sure, we still go to the movies, but I hardly look at them until we're seated in the theater, waiting for the film to start. Why?
I'm too busy. Too busy scanning each room for the perfect place to hide if a gunman enters the building. Too busy figuring out who I'm going to throw myself over first. Who I'm going to shove into the nearest supply closet. Who I will hide behind the ticket counter.
Who has the best chance of surviving.
You probably think I'm paranoid. I can understand that. I'm the oldest cousin in my family, a strong, loud, rock-hard Irish-American family. I'm incredibly protective of everyone. But, I also want you to really take this in:
December 1990. July 1991. January 1992. January 1994. November 2005. June 2006. December 2008. April 2009. July 2012. July 2015.
These are all dates of movie theater shootings in the United States.
To me, movie theaters aren't what they used to be. No longer are they noisy, colorful places full of excitement and wonder. I don't know if I'll ever feel that way about them again. Now, they're dangerous, scary places full of enclosed rooms that suffocate me with fear. As long as it's so easy for someone to obtain a gun in this nation, I will never truly feel safe going to the movies. A trip there now only yields one objective.
See the movie and get out alive.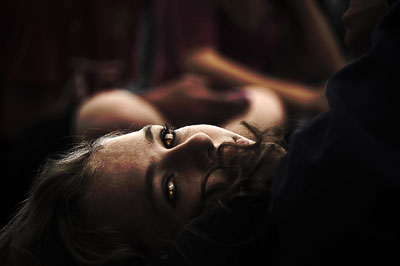 © Calvin C., Salt Lake City, UT