Teacup
MAG
March 18, 2015
Your voice is a warm sip of hot tea with a shot of honey. Scalding. Pleasantly runny. Each syllable drips into a cadence of chamomile flavor.
Wait. That's a little too romantic, is it not?
Did I mention, though, that your nervous coughs and chuckles are the throaty mish-mash of tea leaves at the bottom of the cup? And your laugh – well, it's the ripple of honey I want to hold eternally on my tongue. Forever. Like the kind of sweetness a spontaneous sip does not do justice to.
What else? I hate it when you argue. Every rebuttal, every "last word," brims over out of your mouth, overbrewed and stinging. Did you know that? Your vowels are angry drops of antiquated imports. Too bitter, too strong. You disagree with me, and it's the clinking and clanging of the teaspoon against the teacup.
And then we make up.
Your porcelain breath mingles with mine and a luscious warmth leaks across my lips once more. I can't help it; my mind draws out fire with every delectable, dialectal drink of you.
I shouldn't talk like this.
It's funny when you put on accents, like a posh Londoner's. It always reminds me of the brightly colored tea boxes at the corner store bearing labels like Peach Rhubarb. And when you hum to me, your attempt to soothe is a medicinal concoction for the bad aftertaste of a math test or a rude remark.
And I do, I do love it when you read to me. The poetry's always like measured spoonfuls of sugar into a slow-boiling pot. The prose, on the contrary, spills out too fast and too hot, splashing me sometimes and staining my thoughts. Yet, you always infuse the literature with a cherry-colored sultriness that's inexplicable. And the scary stories, the fairy tales, they glisten as fresh inflections pour out of your mouth. Do they not?
Now, I told myself I would save the best for last. Here, the cream flourish to this tea-tarnished note; the final splatter of vanilla (you know that's my favorite flavor).
Your voice, thick and soft and slept-in, on the phone at 4 in the morning. So, so rough and so, so warm; the first sip, the best sip, the one I want to taste now and tomorrow.
Did I mention that drinking tea is one of my greatest loves?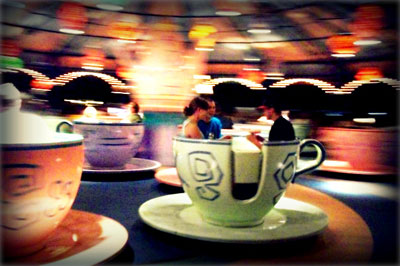 © Lynn S., Baltimore, MD