A Little Bit of Brightness
July 1, 2013
Just the other day, my family and I were traveling back home from an enjoyable, yet mildly stressful week long vacation on the Texas coast. While being at the beach always brings me contentment, when you're traveling with your four brothers in addition to your parents, even the most serene of vacation spots contains a bit of frustration and strife. As we began our eight hour ride back home, I was fairly content to pop in my earbuds and relax to some nineties country music. However, four hours later, my temper had been slowly simmering for the better part of the day and I was ready to explode. While I typically have a generous supply of patience, I was completely and utterly fed up with my brothers arguments and fighting that plagued practically the entire road trip. Relieved to escape confinement, my family spilled out of the car in some nondescript, small town, at a Dairy Queen. (Dairy Queens are a staple in nearly every Texas town, no matter the population size.) As my brothers nearly ran each other over in a desperate sprint to get to the bathroom first, I slowly walked towards the front door and held the door for my mother and another lady who went rushing in. As I began to step inside, I noticed out of the corner of my eye an elderly lady slowly making her way across the parking lot to the entrance. I instantly stepped back and held the door a little wider for her. It took her a moment, but once she noticed I was holding the door for her a big smile lit up her face, and I instantly smiled back. As she made her way through the door, with that smile still on her face, she looked at me and said "God bless you, sweetie!". And just like that, my anger and frustration drained away and I walked into the restaurant with that smile still lingering on my lips.

I mentioned it to my mother; I quoted the elderly lady on social media. But I simply couldn't convey how much that simple, simple sentence meant to me. It truly struck a chord in me. I mean, how often do we take time out of our day to truly thank someone? Typically, when I hold the door open for someone, I get a quick jerk of a head nod or sometimes, nothing at all. And if we don't even notice the small things, how often do we even make an attempt at brightening someone's day? When you put it in perspective, it seems that much more saddening; when something as small as telling someone "God bless you" could make their day, why don't we do it more often? Why don't we smile at that random person we pass in the mall? Why don't we help the mother with the two babies unload her grocery bags into her car? Why don't we offer to sit with the new kid at lunch? When it's so easy to bring a little bit of joy to someone's life, why don't we do it?

The Dairy Queen was packed, as it was noon and the prime lunch hour. The counter attendant taking my family's order seem harried and stressed out. As she handed the receipt to my mother, I smiled at the attendant and said brightly "Thank you! Have a good day." I can only hope that those simple words gave her a brief moment of happiness and inspired her to pass it on.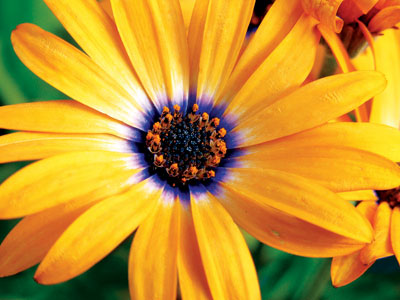 © Vania M., Voorhees, NJ