Autumnal
MAG
May 25, 2013
It's been five years,
and I can't remember the exact color of your eyes
or the softness of your hands,
but I've never forgotten the way your face lit up
when you talked about autumn.

I don't remember the words to your favorite song
or the sound of your laughter,
but after all this time, I still see you sitting on that park bench,
still picture you kicking leaves
and charming tiny flames from the top of your lighter.
You would spin stories of a dying summer,
outline the birth of fall in shades of gold,
and recall harvests that always seemed too big for your delicate wording.

Five years later
and I still can't believe that you're gone.
I still find your coats
hanging
in the front closet,
the corpses of your cigarettes still lying quietly
where you thought I'd never find them.
I keep your lighter tucked in my own pocket
and I can't see it without thinking about the changing leaves,
bursts of oranges and reds like fire at our feet.

I'm still waiting for another autumn,
for another smiled story and crisp evening air.
I'm still waiting for you to need that coat,
to shiver next to me on a park bench
and pull that crinkled pack of ashes
from inside some hidden pocket.
I'm waiting for you to explain the note
you never left me,
the reasons you never gave,
and why my footprints seem so much smaller without you here

I'm still waiting for you to explain
why the autumns are so empty without your words,
and why it was so hard to make it here
without you.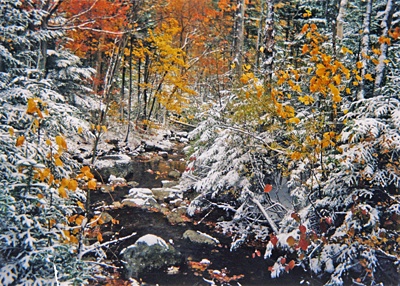 © Eric E., Lexington, MA