Swinger Singer
MAG
November 17, 2012
"Doesn't it feel like a Sunday?" I ask Friend. Friend nods.
"It feels like a long-weekend Sunday," he points out. Long-weekend Sundays. The most awful Sundays. It's actually a Saturday night, and Friend and I are watching the ribbonlike clouds turn pink as the sun sets here in the park.

Just a few minutes after, a blue car weaves its way into the small parking lot. It is highly noticeable because it poses the question, "Who drives to a school playground on a Saturday night?"

Swinger. That's who. We see him almost every time we're here. Around 17 years old, medium height, he gets out of the car and looks over at us, his face wearing that distinct expression that someone gets when another person is intruding. I recognize him the second he starts walking toward the swings, placing his earbuds in his ears.

"That guy is always here," I point out to Friend, and Friend acknowledges it. "He's always alone."

Friend says, "Oh yeah," as he tries to look in the direction of Swinger without seeming too rude. In a second, our attention wanders away from Swinger as we converse on other topics.

It's just a minute later that I notice Swinger is no longer on the swings, instead crossing through the soccer field into the forgotten area of the park with the bench and pine trees that no one really goes to. A small tuft of white fur chases after Swinger, but Swinger doesn't react. He just stares at Owner, who runs across the field, maybe apologizing to Swinger as he collects his dog.

Friend and I go on the swings, and I can't help but notice Swinger sitting on the bench across the soccer field, elbows on knees as he cradles his iPod and stares in our general direction. We swing back and forth, making small talk again. We discuss politics and foreign countries and "The Big Bang Theory," and I suddenly notice Swinger already halfway across the field, walking to the swings. I am surprised he waited so long to start his routine.

He moves a few swings from us and occasionally looks our way, and we try to act as casual as possible. Nevertheless, Friend suggests we go do something else, and I agree.

We are almost out of the park when Friend points out the voice. I look across the park at Swinger, who is beginning to disappear in the backdrop of trees and falling darkness. You can see his gray sweatshirt but not as much the rest of his body. He swings high, going almost parallel to the ground, and his voice flows through the playground. A jazzy tune. I can't make out the lyrics, but I hear the beat and his voice is unmistakably happy. The jazzy tune soon disappears into a guitar solo, loud and passionate, echoing through the twists and turns of playground equipment. That sound that everyone can make but no one can actually spell out phonetically,

These are not just simple lyrics.

This is unmistakable onomatopoeia.

It turns into a medley of guitars, rock and roll, sound waves blasting through amplifiers and crowds cheering wildly. I imagine a Freddie Mercury swinging on that swing, letting all his emotions out in one long huzzah as the park gets dark and quiet yet again.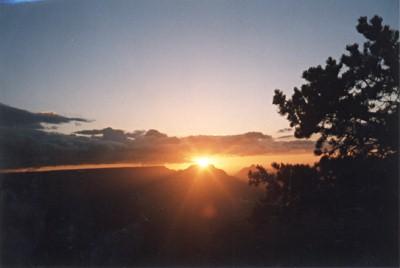 © Amanda T., Scituate, MA