Going In One Direction
October 15, 2012
One summer night in June, it was my birthday. My best friend I met on Twitter, Abbi, and I was going out for the night with our moms. "Mom, I really want to go to the One Direction concert. My favorite band is going to be here on my birthday. It'll never happen again." I complained to her twenty-four seven. Everyday I called the radio stations trying to win tickets, and I never won. Abbi also tried everyday; no luck. It was like it wasn't our faith to ever go see them.

"Mom, let's get backstage passes. I wanna meet them." I would tell my mom.

She always replied with, "Ashley, you're never going to meet them, okay? Just get that through your head," but I never believed her.

The first thing on our "to do" list was to go to the Cheesecake Factory. Of course, we were basically the only people in there not going to the concert.

"Oh my gosh, she's going to the concert. I hate her. She's ugly anyways," We would say about everyone with a one direction shirt on. At the end of our meal, my mom had all the workers come sing happy birthday to me. We finished eating and had to go to the restroom. Abbi and I stood up to go. One of the main girls we were hating on was leaving for the concert. She saw me and smile, "Happy birthday."

On our way to the bathroom, we both agreed that we didn't hate her, but we hated the rest.

We left the restaurant and went to the mall that was connected. We went into the Mac store because it was the first place we saw. After, we were stopped by one of the annoying people at their stands trying to get you to buy the stuff they are selling. This time, it was for hair products like curling wands. Neither of us wanted to do it, but the lady insisted. Abbi was the one to go up and do it. I swear, it was taking hours. Finally, the stylist was done.

"Okay you guys, let's go to the other mall." My mom informed us. I was confused. We hadn't even been there long and now we are already leaving? Something was suspicious about it. I was praying we were going to the concert, but my mom made it clear we weren't. I was so upset. Even though it was my birthday and I was with my best friend, knowing One Direction was about 10 minutes away from me was killing me inside. Abbi and I were on our iPhones the whole time and weren't looking where we were going. My mom hands me her phone. It was her boyfriend's mom.

"Are you having fun sweetheart?" She asked.

I lied, "Yeah, I'm having a great time."

"Well trust me, this is going to be the best nights of your life." She suspiciously told me. Now, I knew something was up for sure.

"Mom, what did she mean by this is going to be the best night of my life?' I asked wondering.

"Oh, well…umm…she was talking about how she is going to make your favorite desert next time we go to her house." She lied.

"Oh yay!" I tried to sound excited, but I was hoping she meant something else. Before I even knew it, my mom was calling my name and video recording me.

She asked me, "Ashley, where are we?"

"Oh snap, we are here. Abbi look! Oh my gosh." I said excitedly as we were driving beside the Time Warner Cable Arena where One Direction will be performing that night. I knew it. I knew she wouldn't let me down, even though she did put on a very believable performance.

After parking, we go to where everyone is standing. They said this is where One Direction will be pulling up when they get here. We were standing out there for about twenty minutes when a security guard comes out and tells us they were already here.


"Oh well." I informed everyone.

We went into the arena. There were stands set up everywhere selling merchandise for the concert. I had got fifty dollars from my mom before we had even left for the restaurant. I decided to spend it here even though that was what the money was for in the first place before I knew we were coming here. I bought a t-shirt, the necklaces that look like backstage passes, and a pack of five wristbands, each with one of their names on them. Everything was expensive, so it cost over what I was given. My mom didn't care and gave the lady the extra money.
It was so crowded. I swear we were waiting in line for the merchandise for about twenty-five minutes. Anyways, we decided to go use the restroom before the concert started. They had changed most of the boy bathrooms to girls, considering it was mostly girls at the concert. Since my mom got the tickets at last minute, they weren't the best seats, but I didn't care. It took us forever to find the entrance to the section we had, but we did and found our seats. I was here, in the same place as One Direction, about two hundred feet away from them. I was so excited.

Olly Murs was one of the opening acts, and I thought he was amazing. The concert took forever to start, but once it did, we were standing up the whole time.

During the concert, Harry Styles would wave in our direction. It happened six times. Abbi and I would look at each other and smile. We both love him to death. We even fight over him sometimes, but here we didn't. We were getting along so well and were just happy to be there. Towards the end of the concert, Harry and Louis jumped in front of the guards. Everyone went crazy. People were running up trying to touch them, pulling Louis suspenders, and more. The guards had to hold them back and put them back on stage. Also during the whole concert, all the girls were throwing bra's, underwear, beach balls, teddy bears with phone numbers, and everything else you can think of up onto the stage.

The boys were hilarious on stage. Laughing, running around, and changing the lyrics to ridiculous things. They also tried to do country accents. I'm going to have to say, it was the worst, except for Niall. It wasn't Harry, Louis, Zayn, and Liam's talent. I was laughing so hard at their attempt.

The concert didn't last very long considering they only had one album out, but it was still amazing. We were leaving and it was crowded like crazy. People would start screaming and running out of nowhere for no reason, making others think they were seeing the boys. It was crazy. They were like a school of fish; once they find their prey, they swim to it as fast as they can. We finally got down the escalator, but had lost Abbi and her mom in the process. We stood there for about five minutes until we finally spotted them. On our way home, it turns out I had another surprise. Abbi was spending the night and was going to Ohio with us in the morning. I was so excited. We talked about the concert all night long, smiles never leaving our faces.

This was the best night of my life so far. One day I hope to meet them, proving my mom wrong. My day will come, and in the meantime, my job is to just sit back and enjoy life.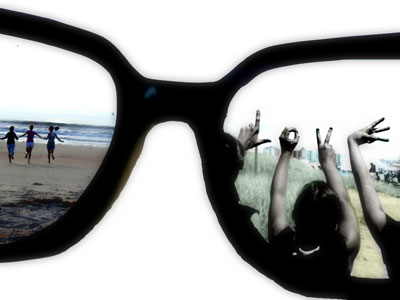 © Christina G., Bedford, NH