Visiting Hours
July 25, 2012
I am a stuck in a suffocating merry-go-round, a wooden horse mired in an endless circle, paint chipping around the eyes. Groundhog's Day delivered to my doorstep, wrapped in an embalmer's bag and tied with a hospital tube ribbon. Always the same, day after day after day after day.

Step one: Rip your subconscious out of it's chilling chimera as the you tear the limits of your breath, screaming loud enough to wake yourself up.

Step two: Paint on the clownish smile, fantastically distorted features to hide the crystal rivers brimming behind emerald eyes. Try not to think about what's watching from the shadows. Try not to listen to the laughing demons, shrieking with amusement at the bad taste in your mouth as they toy with you.

Step three: Hate the stranger staring back at you form the other side of the reflection. Focus on each flaw, on every pound of excess fat, on every problem that needs to be fixed.

Step four: Drive to the hospital. Despise the brainless billboards smacking you in the face with sunny advertisements, success, other people's smiles.

Step five: Feel your stomach drop with dread as you pass the shuddersome signs pointing toward the Intensive Care Unit. Sit on shaking hands to stop yourself from twisting the wheel to turn away from such a terrible place, foot forced hard on the accelerator in any direction but forward.

Step six: Watch the souls swirling out of slammed car doors as they shuffle mindlessly towards the medicine that keeps them chained to the crust of the earth. Join in the school of fish, fins flashing fear and gills churning grief as they swim into the net of death that rests behind hospital doors.

Step seven: Enter the most accurate representation of hell that you have discovered in this doomed dimension.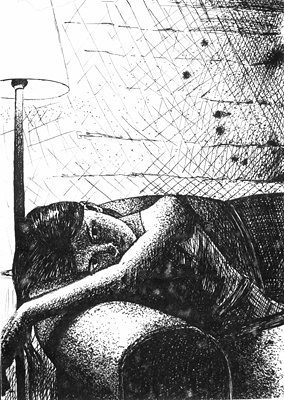 © Elisabeth R., Elmont, NY