The Idiopathic Laugh
May 9, 2012
Many people enjoy attending theater shows and musicals. Their interest and curiosity increase as the plot of each story unfold. These people sometimes like their first experience so much that they become regulars at the theater. They also tell others about their experience and even take other people along with them to see the shows and hear the stories. But in my personal experience, as an actress, I have found that is backstage where the stories are made. And this is where our current story took place.

It came out of nowhere. One moment I was glancing at the clock on the wall and talking with some of the other cast members in the green room and the next everyone was staring at Dale Weaver. He looked crazed, laughing loudly and couldn't seem to stop. As he sat there he bent over and put his face in the crook of his arm still unable to calm himself, when he sat up again his face was bright red and he was holding his sides trying not to shake with his uncontrollable fit of laughter. When we could no longer hold in our curiosity we inquired what had been so incredibly funny. The three words: "I don't know" were all he could manage to gasp in between his constant bursts of laughter. His random outburst, having lasted nearly fifteen minutes already, was idiopathic.

By this time most of the other cast members had gone back to their previous endeavors, having lost interest and given up on figuring it out. However one young, seven-year-old boy, named Ethan Johnson, was still curious. At first he stood across the room simply watching but as time passed he slowly came closer, stopping about six feet way. He pointed at Dale and asked what was wrong with him, we only shook our heads replied that nobody knew. He thought about for a moment before coming up with a suggestion in his head, he then proceeded walking towards Mary, the girl sitting next to Dale. When he arrived at her side he leaned over and whispered and question in her ear, to which she and I were the only witnesses. Despite the fact that we would probably embarrass him we couldn't help ourselves, it was our turn to burst out in laughter.
Shortly thereafter Dale finally stopped laughing and caught his breath, he waited a moment for Mary and I to calm down and then asked us what Ethan had asked. Ethan had refused to tell him. Mary then explained that the small boy had been curious about why Dale was laughing and had asked her: "Is he pregnant?" The three of us once again burst into laughter as Ethan shied away, his face turning red. He had no clue that his innocent question would entertain us all so much.

We had caught a hold everyone's attention once again. This time we had an actual answer and explanation. After we had told the first couple of people it spread fast and soon the whole cast knew. Ethan eventually decided that he was no longer embarrassed and laughed along with everyone else and we decided that we would leave it to his mother to explain that guys can't be pregnant.

It all took place within half-an-hour but to us it was more exciting than our practice that day. So even though the audience enjoys sitting out front and watching the show, to us, being backstage is the most exciting and entertaining place to be. I love going to see plays and musicals but I will always have a better time hanging out backstage with the rest of the cast in between our scenes because I know that behind the scenes is where the magic happens and the stories are made.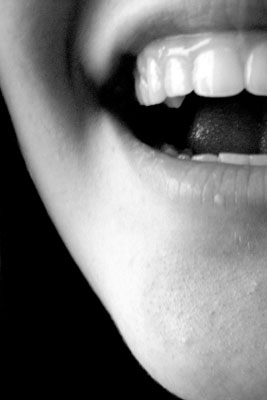 © Katya K.