Solemn Sunday
April 16, 2012
Somber was the air about the world. No little children ran in search for eggs. A sentimental feeling clung to those who passed the doorway of that elaborate house in Ventura. It was a swell of despair and depression, remorse and regret, thought and hope, feeling and memories. Food remained untouched and drinking amongst the family members whom had worked so hard to become sober arose. Aunts, uncles, cousins, sisters, brothers, friends, and grandmother stood around his bed. The priest had been by five times already, now one of many visiting doctors stood talking to the teenagers huddled in the corner. "He'll pass peacefully" she says. They respond asking why he can't open his eyes. "He's too tired. He can still hear you though" she replies. They ask why he can't respond. "He's too tired" she repeats again, "I'm sure he's saying he loves you though in his mind." With that the doctor leaves the family in the room.

The teenagers gather around the hospital bed their beloved grandfather sleeps upon. Girls begin to sob as they see their strong, unbreakable brothers and fathers cry. A small child, no more than four and fully aware of what's going on, walks in. She is quickly scooped up by her crying sister. "He isn't gone yet" the little girl asks. Her sister shakes her head nodding he is still with them. "Is grandpa going to see my new Easter dress" she asks tugging at her skirt. Her sister says she doesn't know and begins to cry harder. "Don't cry" whispers the small child, "if he opens his eyes and sees you crying that will make him very sad." A soft laugh breaks the somberness of the room, and the teenagers leave outside to play with the little girl to remove their minds of their grandfather.

Back in the room sits an aunt. She cries and cries to her father, apologizing for all the times she'd yelled at him for little things like being too slow and snoring too loud. Holding his hand she prays to hear him snore one more time, to see his eyes flit open one more time. Her mother trudges over, placing a hand on her shoulder. "Bring your daughter in" she says to the aunt. The aunt calls in her young daughter, a violinist and singer at the age of nine. "Play your violin and sing to your grandfather" the old woman says. The girl begins to play, a minuscule smile tries and fails to reach her grandfathers lips, her mother and grandmother continue to weep. Hearing the music from outside the teenagers return to the bedroom turned hospital room.

As they begin to settle in, their grandfather struggles to open his eyes. They notice and for a few small moments are refilled with hope. "We love you so much grandpa" they whisper to him. He makes a squeaking noise followed by two grunts, they begin to tear up again because they know he's trying to love them back. For no more than three seconds his eyes open half-way then close. They sit and watch as his chest slowly rises then falls, out then in, up then down. They sit and watch as his dark chocolatey caramel skin has turned a patchy black and yellow, as his bones soften and his muscles melt. They sit and watch as their grandfather is slowly taken in by his cancer that has worked to consume him for five weeks.

No one moves from their spot. No one speaks to one another. No one can remember the world that is moving on around that elaborate house in Ventura. All they see is an old man worn away by time, lying on a hospital bed that was dragged into the room surrounded by pill bottles and machines. They see him resting peacefully against his white pillow and surrounded in comfortable, warm blankets. Everyone remains focused on him, afraid of leaving him alone in his last hours. Then with one last breath, his head tilts, his whole body relaxes, and his heart beats one last time. A beloved father, friend, grandfather, and so much more is taken from those in the room. Five weeks of fighting for an unavoidable ending, over. Never had an Easter Sunday been so solemn.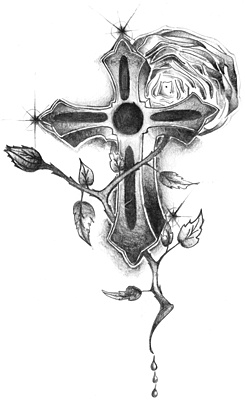 © Ricky P., Natchitoches, LA