More Than Just Riverdancing
January 23, 2012
When I tell people that I'm an Irish dancer, they expect nothing less than Michael Flately's charismatic solos that seem to float on air. Sorry to disappoint, but the consequences of this sport are hefty and disgusting. Every drop of blood, drenching in sweat and teardrop proves a passion unrivaled in my life. (Flately pre-records his beats anyways).

My life as an Irish dancer is very different than those who play a sport that is more mainstream. People have no idea what I'm talking about when I say that I am going to dance the Ace and Deuce of Pipering at speed 108 and that it's a hornpipe set. Well, to set it straight, the Ace and Deuce of Pipering is a "set" dance that I have to dance by myself at Oireachtas, or the regional competition, this year and 108 it the speed at which the musician will play the music I dance to which measured by the number of beats made in each third of the entire dance. And hornpipe means that I'm wearing my heavy shoes or "the ones that like make all the noises" – (a parent in fourth grade), and that the time signature for the music is a syncopated 2/4. (Confusing, I know). Nobody quite understands it all because it is a world so unchartered and untouched by anyone who isn't involved in the sport itself, that it proves very difficult to get any sympathy or understanding from anyone. I remember in grade school we had a competition in Georgia and had to skip school for a day to make it there. Nobody's teachers or school boards accepted it as a viable reason to leave school, even though soccer tournaments were. My teacher's response was full of blatant disregard as she said "Irish dance competition? Well, I really don't think I can consider that excused. That's not going to be educational. Nice try." - (Ms. Styles). Her words cut me deeply, but it's just another part of the deal. She couldn't understand, and she surely wasn't and isn't the only one. Funny how all eight of us contracted some sort of "stomach bug" for that one day that they wouldn't let us have off of school. And don't get me started on people who protest that Irish dance is not even a sport. If someone can injure herself six times in a year through physical exertion, it's a sport.

Injuries, like any sport, are part of the deal. However, there's a lot less compassion from anyone. In team sports its "Just do what you can, don't overdo it, do what you can handle". At dance, its "push through, don't stop until your bone is projecting out or you're bleeding through your shoes, you'll NEVER be a champion if you stop and can't handle the pain". Pain? From DANCE? Try not to be so surprised. Last year alone I danced on a fractured ankle for three months, broke four of my toes all at once, got chronic shin splints severe enough to be considered tiny fractures and threw my hip out. And since starting dance at the age of five I've also been diagnosed with severe Achilles tendonitis, plantar fasciitis and various knee and hip problems. It seems like those Riverdancers haven't a care in the world, like they're never hurt, but it is all an act. Last night at my studio, my friend's mom brought in horse medicine to smear on our blisters which had gone five layers of skin deep and peeled off. It's gross, but it's a labor of love. When I'm dancing, it's not about what my body feels. Dancing doesn't come from my body. It comes from my mind, heart and soul. When my body screams out in pain and horror, it is my mind and heart so wrapped up in my passion and a goal that pushes me through whatever the problem of the day is.

I'd be lying if I said I didn't feel a twang of irritation every time the magazine I have in my hands prints the article about how hard the life of a ballerina is. Really? Ballerinas? Ever since Black Swan, it seems like everyone feels bad for them. I know that I shouldn't be jealous of them. Irish dance is so unknown that we might never be put in magazines and given credit outside our own publications. However, it still hurts to see the whole world beginning to understand ballerinas while there's a fire burning in my feet. We have it really hard to. I met a ballet dancer once who was set on proving to me that ballet is the hardest form of dance and that they sacrifice the most. She complained about how they "stab their heads with bobby pins". I take extra ibuprofen because the sheer weight of the wig I wear and the packs and packs of bobby pins that keep it in my head are enough to cause an unimaginably splitting headache. The ballerinas get to wear chiffon and tights and be graceful all the time. We have to switch from graceful and elegant to powerful and loud and pounding it out on the stage all while wearing and fully velvet dress covered in pounds of rhinestones. It is the everlasting uphill battle. We get no morale boost from the general population, but we don't need it. Still, a world that that can understand ballerinas is one step closer to understanding Irish dancers.

The reaction I get when I tell people I'm an Irish dancer is always interesting. "Do a dance for me, right now!" some say to which I reply that I don't want to. Some say "Oh, like Riverdance!" to which I reply, no actually not like Riverdance. I dance solo, by myself, without anyone else. I am not in a troupe. I dance at competitions, and my main goal is to reach Open Championship, the highest level to which I am just two more first place finishes away from. I wear an intricately embroidered dress and a curly wig for competitions and there are no overly dramatic arms. Mine are glued to my sides. And the newest response would be "Irish Lap Dancer", to which I can only shake my head.

Many people don't understand why I continue to dance. It takes a lot of time and energy, the competitions are far away, it causes injury and pain and nobody can really understand where I'm coming from. But dance is deep within my heart. When I tap out my steps on my binder and dance them under my desk and skip them down the hallways, it's all for the dream. Champion. Nationals. Worlds. The passion pounds the music in my soul, grows the skin over my raw blisters and pushes me to the breaking point. The passion is the power. Without my passion I feel like I am nothing. It takes an athlete to dance, and an artist to be a dancer. When I step out onto the stage and I hear the clack of my footsteps and feel my faux curls bounce on my head and the sparkle of my dress reflect off the lights and into my eyes, my mind goes to the old Irish saying "Dance as if no one is watching, sing as if no one is listening and live everyday as if it were your last". I dance for me.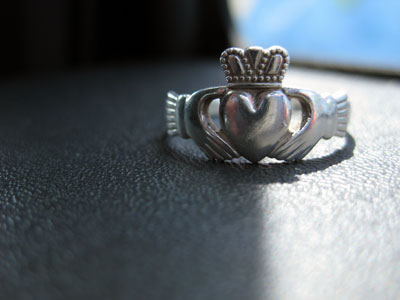 © Kaelyn L., East Northport, NY