The Ride Home
January 19, 2012
It is a Friday afternoon, and excitement fills the air as torrents of students pour out of the high school, leaving the doors swinging and the teachers exhausted. It is October, a month filled with football games, Homecoming activities and dances. The energy consuming the parking lot is oppressive; catching the "Friday night fever" is inevitable. As I journey through the crowd of people and climb the stairs onto my bus, I greet my bus driver with a smile. I seat myself in the first chair closest to the front on the driver's side, the same place I have been sitting since my freshman year, and prepare myself for the ride home.

I am the first person on the bus. As I watch others begin to board, I cannot help but notice the stories within their faces. That kid must have received a bad grade on a test. That girl just got dumped by her boyfriend…I notice things that nobody else does. As the bus pulls away from the high school, I listen to a conversation starting in the seat behind me.

"He is so stupid. I told him, like, a thousand times I didn't want to go out with him, and he texts me like every day."

"You should tell him to go creep on some other girl….." The girl expressing her complaint about an unwanted admirer resembles plastic. Her hair color is fake, her nails are fake, her make-up is fake. Is she trying to hide her true self, or is she trying to become something she's not? I wonder these things as I glance upon her perfectly pink lip gloss and her super sparkly tank top; if only she could see herself behind her costume.

I adjust my listening to a different conversation:

"I have a job interview today, yeah, the guy was like can we do it tomorrow? And I was like how about today?" His friend slaps his hand in congratulation.

"That's awesome man, you think you're gonna get the job?"

He is a senior, excited about getting a job interview. He is wearing a sweater with a collared shirt underneath; his attempt to look classy. His voice projects across the entire bus as he exclaims his success. It is difficult to believe that the fake Barbie girl and this young man attend the same school. I focus my attention on the bus driver.

I have always been the observant type. I am a silent bystander; I watch, but do not affect. I listen, but do not input my own thoughts. My bus driver is the same way. He speaks only to gently remind a student not to eat on the bus, or to advise a boisterous freshman girl to quiet down. I admire his silent authority; he is in charge, but he does not require volume to enforce this. It is a shame that most students will forget him, because of his quietness. Only those like me will recall his kind ways and his gentle nature. I will remember all the times he brought us soft pretzels and let us eat them on the bus, or the times that he chuckled to himself when he saw my dog Ginger loyally waiting for me on my driveway.

The bus pulls to a stop, and a string of chit chatty girls exit the bus. They waltz down the aisle as if they were on stage; they are freshmen. This is a trait common to many underclassmen; they behave as if they are constantly performing, their audience is their peers. As the door closes behind them, they walk side by side to their houses, laughing. The bus pulls away, and we approach the next stop. This time it one lonesome boy; he runs awkwardly off the bus as if something were chasing him. He does this every time he gets on and off the bus; he is uncomfortable in his own body. He does not wish to be stared at. I smile to myself as I empathize with this prepubescent boy's situation.

We continue on. Many other passengers get off, each with their own story. I know what most of them are doing tonight, because they so loudly broadcasted their plans to the world. I realize how insecure most of these people are, how desperately they want to feel important. So caught up in all the pretending, they drowned themselves in a sea of fakeness. As my stop approaches, I look out the window at the beautiful autumn scenery. Leaves in every shade of red and orange litter the roads and adorn the trees with fiery color. There is a slight breeze, and the sun is shining. As I get up to leave my seat of three years, I come to the conclusion that everybody is the same; we are all searching for something that defines ourselves. I am just as guilty of pretending to be someone I am not as those self absorbed freshmen girls, and I am equally insecure as that awkward freshman boy. It is then that I am shocked to realize that by observing others, I came to discover more about myself than about them. I walk down the stairs to leave the bus, and my bus driver wishes me a good weekend.

"You too," I respond.

I glance back at the bus as it drives away and smile, knowing that it will come again on Monday morning.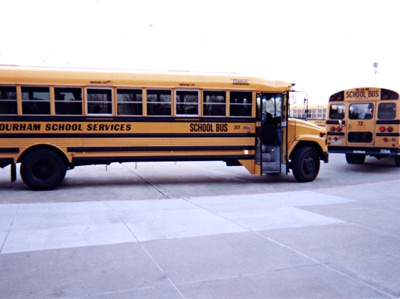 © Blake B., Highland Village, TX