Just Not The Same
December 15, 2011
I look into the mirror and stare at the healing wound on my nose. My entire body begins to get a feeling of weakness throughout it as if my defensive wall is starting to crumble before me. I feel as if someone is stacking weights on my chest in attempt to cut off my breathing. A panicky feeling fills my mind. I clench my fists, digging my nails into the palms of my hands. I feel the sharp pain soar through my body. I focus all my thoughts on it and breathe deep breaths through my mouth. The feeling of panic begins to disappear. I clench my fist tighter, digging my nails deeper into my flesh. I focus harder on the pain as it shoots from nerve endings and registers in my brain. It starts to feel as if the weights are being lifted off of my chest one by one; my breathing slowly begins to regulate. I stand there, staring at myself in the mirror, and everything that I see.

The fake smile which I've plastered on my face in hopes that people won't notice the immense pain in my eyes.

The sadness in my eyes. No longer lit up by the simple joys in life, but rather screaming with pain.

My make-up thrown on instead of done precisely with care.

My hair, unstraightened, a mess of frizz framing my face.

My clothes, sweats and a t-shirt, picked out with no thoughts of style.

I hate it all, so unkept and depressing. It's not me at all. In one night I went from care-free and loving with a screw you attitude to worried and uncaring with an I give up attitude.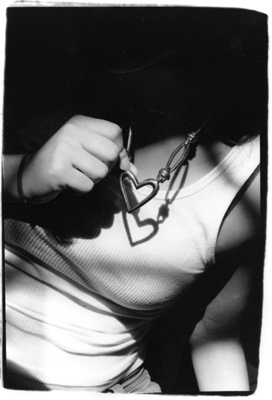 © Julia R., Bethesda, MD