A Broken Family
November 15, 2011
The parents come back from a hard day of work, they made little money and they have to decide wisely what bills will be paid first. With a baby girl on the way and two kids already here life is closing in on them. They find this hard, being in the United States without a good job. The kids have no idea what the parents have to go through that's why they ask for so many things. To them, they just like the rest of their friends. They get what they want, expensive clothes, shoes, even unnecessary things. The parents try their best to give them what they really need but even then they seem to fail at it. The baby girl is finally born, but that father is gone. The mother knows she has to do twice the work to keep up with bills and help with the baby. Her work doesn't pay well so she will have to take more jobs, but who will watch the baby? The other children have grown and are unappreciative of the mother. They don't care what it is that she does for work, they just want their expensive things. The mother makes a hard decision and decides too sell her body in the streets, She tells no one about the changes she made. She starts bringing in good money and the kids do whatever they want with it while the mother is taking care of the young one. One day she comes home to her older son crying in the kitchen.
"What is wrong with you?" The mother asks
"I killed him! he took my money so i killed him! i didn't mean to, it was and accident!"
"Who did you... kill?"
Without another word, they both broke down and cried together. After a while the mother told him that she had to call the police. He got angry he threatened to kill her if she did. While he was distracted cutting off the phone lines. She took the baby and drove off, She drove towards the police station knowing she was going to make it before he caught up with her. Before she entered she stopped thinking this was the last time she was going to see her son, and now her other son was dead because of him. She stood there thinking how all that money she gave them made them ambitious and selfish. She stood there, knowing it was all her fault.
Life is like this for many of other families, i just wish i could do something to prevent this whole story from repeating.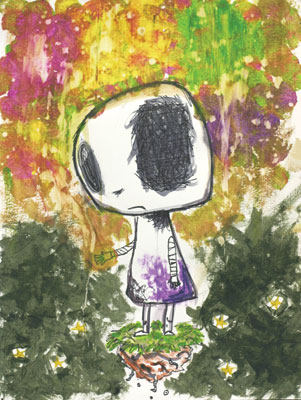 © Ashley W., Port Charlotte, FL