Memories and the Future
November 5, 2011
The desk in the corner is where I spent hours upon hours doing homework.
The vanity on the side wall is where I spent a part of the morning pampering myself for the day ahead.
The shelf is where I kept my wide collection of books and movies.
Now it is all gone.
Today I am leaving for college.
Leaving my childhood behind.
There are things that I will miss about my childhood.
I will miss the days of summer frolicking in the pool and running through the sprinklers.
I will miss the late nights with my friends gossiping about who knows what.
I will also miss just being a kid.
When you're a kid, everything is simple and carefree.
What you feared was the monster hiding in your closet and getting cooties from the boy sitting next to you.
The years of childhood are probably the most memorable of someone's life.
The events that take place last a lifetime, good or bad.
It could be the time you won first place in an art contest, or even when you first learned how to ride a bike.
Going from adolescence to adulthood, is a big transition in someone's life.
You abandon childhood and move on.
"Honey, it's time to go." I hear my mom say.
I take one last look at my room and close the door behind me.
I walk out the door and look at the house I grew up in.
I'll be back during Thanksgiving. I'll visit all the time.
Though I don't live here anymore.
The memories that I have will always be here, but I can never go back to them.
Maybe one day, when I'm a little bit older than I am now, I can relive my old memories through different eyes.
I would look back and remember all those good times I had as a child.
I would smile.
I get into my car and drive off. A start to a new world.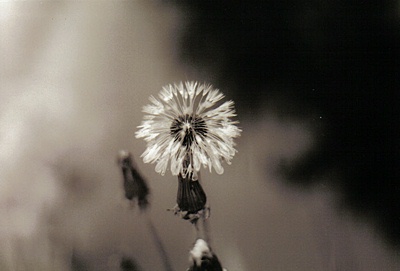 © Sarah S., Poland Spring, ME