Letter to My Nonexistent Sister
October 5, 2011
To: a Resident in Heaven that means the world to me

Dear Chloe,

Lately I have been thinking about you a lot and I believe that it has become necessary for me to write to you. I want you to know that I am not okay. Most people don't even know that you ever existed. To a certain extent, this makes it all the harder. I know you died before you were born, but I feel like there is a hole in my heart. I feel like that empty chair at the dinner table is more noticeable than ever before, more than anyone could know; because that should be your chair. You should be sitting there next to me.

I feel that it is a common misconception among people that because you may have never met the deceased, that you should feel no pain. However, if anything else, the not ever knowing you is the worst. Instead of knowing how much you miss that person, knowing what they were like, how you felt when they were around, instead of knowing, I am plagued by the question, "what if?" I am stuck with the task of wondering what my life would be like if you were here now, if I had that big sister that I've always wanted. I ponder about what it would've felt like to have all of those experiences with you. I wonder how it would've felt to have someone that I could always rely on, with whom I could share my deepest secrets and feelings. Whenever I see any of my friends with their brothers or sisters, whether they're bickering, happy, or angry at each other, I think of you.

I have always felt this presence, and I have continually had this feeling that you are watching over me. I have always felt like you are here for me. Do you remember when I used to talk to you? I know that people would think that I am crazy, but I have always felt like you were there listening when I have vented and told you about my day. I have always thought of you as my guardian angel, and I strongly believe that you have protected me from the dangers and wrongs of the world, and when you couldn't keep the dangers away, you always caught me when I fell, even when it was my own missteps that had gotten me where I happened to be. I believe that everyone travels along a path in the world, and I feel that most times when I have veered off of that path, you have always been able to prod me to get back in the right direction.
I have always questioned how my life would be if you were here. I think I am more independent without you, yet I think about how different my life would be with a big sister, and I wonder who I would become. A woman named Barbara Alpert once said, "She is your mirror, shining back at you with a world of possibilities. She is your witness, who sees you at your worst and best, and loves you anyway. She is your partner in crime, your midnight companion, someone who knows when you are smiling, even in the dark. She is your teacher, your defense attorney, your personal press agent, even your shrink." "The guardian angels of life fly so high as to be beyond our sight, but they are always looking down upon us. The golden moments for life in the stream of life rush past us and we see nothing but sand; the angels come to visit us, and we only know them when they are gone" (George Elliot). This quote means a lot to me because it represents what a true sister should be, and how I wish that you were here to be a sister to me.

Chloe I miss you more than anyone will ever know. I realize that we've never met, but that doesn't matter, because I will always feel like I know you and I will always remember you. I hope to meet you someday, and I look forward to it, so that we can be a family once more. Family is important, I will never forget that, and I will keep your chair occupied, with friends, family, and laughter for as long as I live.

Love always and forever,
Mackenzie

P.S. On a side note, to those who may be reading this now, if you have a sister or a brother, never take them for granted; never go to bed angry, for you never know when that might be the last time you ever see them, or you may regret the harsh words that were last spoken. Never wish your sister gone, for you will regret it. I cannot express in words how much I miss my sister. After writing this letter I will continue on, but I will never forget my sister, Chloe.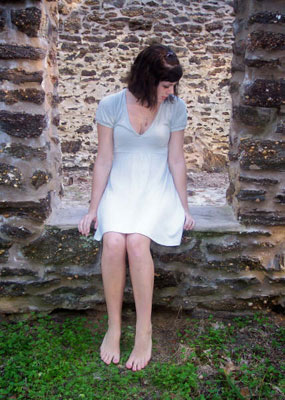 © Katie S., Vineland, NJ